While Americans were playing Fortnight, says Morgan Stanley's Katy Huberty, the Chinese found other ways to entertain themselves.
From a note to clients that landed in my inbox last week:
C2Q18 App Store revenue of $3.4B grew 27% Y/Y, consistent growth with C1Q18, according to Sensor Tower. Results are better than the expected 500 bps Services growth deceleration modeled by consensus. Accelerating gaming growth in the US, helped by Fortnite, offset decelerating growth in China...
Gaming related app downloads and in-app purchases continue to drive the majority of App Store revenue, accounting for 72% of App Store net revenue and contributing close to half of App Store Y/Y revenue growth. Globally, gaming app net revenue grew 15% Y/Y in C2Q18, flat vs. C1Q18
However, within this result the US was extremely strong—likely on the heels of the successful Fortnite launch in late March, which brought in more than $100M in gross spend on iOS in its 3 months on the App Store—offset by a weaker China. US gaming growth accelerated 900bps from the prior quarter to 20% Y/Y while China gaming-related revenue decelerated ~300bps to 15% Y/Y growth. We attribute weaker China gaming revenues to 1) the growing importance of entertainment apps (such as short form videos), the second largest revenue generating app category in China, where revenue grew 164% Y/Y in C2Q18 (from 141% Y/Y growth in C1Q18) and 2) the growing importance of mini-programs in apps such as WeChat which provide an alternative to Apple or Google app store content.
My take: Short-form videos? 164% growth? Why hadn't I heard about this? The contrast between China and the U.S. in Huberty's charts is striking.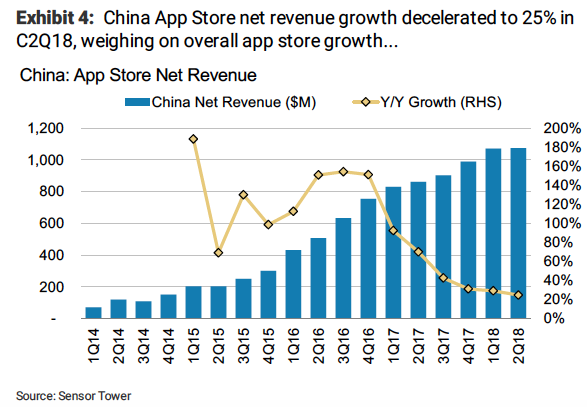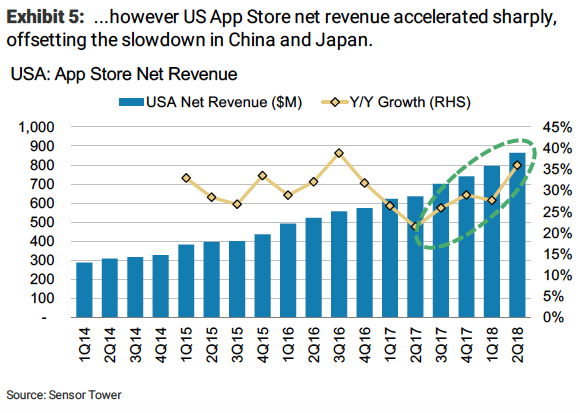 Click to enlarge.