Call it the triumph of the indexers.
From CNBC's Bob Pisani: Friday will likely be the year's biggest stock market volume day with big action in Apple, JP Morgan
A little-known indexing event on Friday will likely result in the year's biggest volume day, with large trading and potential price swings in well-known names like Apple, Microsoft, J.P. Morgan, and Grubhub.
One of the world's largest index providers, FTSE Russell, is rebalancing the large-cap Russell 1000 and the small-cap Russell 2000 indexes. This is a significant annual market event because a lot of money tracks these indexes. Roughly $8 trillion is benchmarked to the Russell indexes, and $1 trillion is passively invested in funds that just attempt to track them...
When you have a single day when all the stocks change their weighting in the index, heavy trading volume is going to occur.
Take Apple, which has been a buyback monster in the last few years. It will reduce its weighting in the Russell 2000 index, and there will be an estimated 2.7 million shares for sale at the close. Fortunately, that is only about 10 percent of the daily volume Apple trades, so the hope is that the price impact will be minimal.
My take: Not a good day to be fooling around.
UPDATE: As it turned out, Friday was a low volume day until 4 p.m., when nearly 7 million shares changed hands in one click according to TD Ameritrade. Here's thinkorswim's snapshot of the close.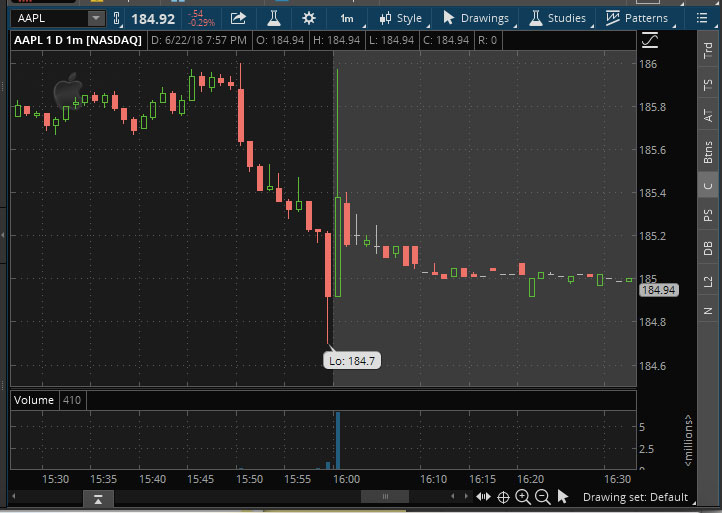 Click to enlarge.