A beautiful day for a developers conference.
All times Pacific.
12:20 So that's a wrap. A long, busy WWDC, despite the fact that there was, as rumored, no new hardware. What we got instead were lots of software refinements—large and small—and a hint of bigger news to come. If I understood correctly Federighi's cryptic closing remarks, next year may be the year Apple gives developers the tools to migrate their iOS apps to MacOS. (UPDATE: I couldn't find anybody who actually planned to do it. See: Ho hum.)
Wall Street seems to have taken pretty well the lack of a big juicy one-more-thing. The stock hit an all-time intraday high of $193.42 and mostly held on to early morning gains. As people jam the exits to leave the hall, the stock is hovering just below 192, up nearly 0.9% for the day.
UPDATE: Apple shares finished Monday at $191.83, a new all-time closing high.

12:08 Tim Cook is back to wrap things up. I think. iOS 12. AR. Siri to any app. Shortcuts. Memoji, Group facetime, Apple TV 4K, new partnerships, zero signons. Mojave, dark mode, redesigned app store. Updates to users this fall.
Before we close... a video... developers' families talk about what makes a developer. Kinda moving.
12:04 Federighi address rumors: "Are we merging iOS and MacOS? No!" We think this question is coming from some place else.
Sneak Peek at multiyear project we're working. There are millions of iOS apps out there and some of them would be great to have on the Mac.
Phase 1: Brought some of our own iOS apps to the Mac. News, Stocks, Voice memos. Coming to developers next year.
11:59 Federighi back.
Metal for graphics. 1 billion Metal-enabled apps across iOS and MacOS. GPU speedup charts are too much this late in the presentation.
Create ML. "Training on your Mac without being a machine learning expert." Much faster, much less space needed.
Core ML. This is for developers.
11:55 Ann comes to stage to introduce Mac App Store changes. Trusting your apps has become more important than ever before. Redesigned Mac app store from ground up. "familiar, but new" See what apps can do before you download. Helpful recommendations. Ratings and reviews like in iOS. Microsoft bringing Office 365 later this year.
11:36 Federighi. Free updates since 2013. Who cares about the naming scheme? Apple does, I guess. This year: MacOS Mojave. The desert at night inspires... dark mode. Bigger applause than I expected. "So great for pros." Makes phots pop off the screen. Presentations. Calendars. Mail in mode. Developers love it for source code. "Fantastic in black." Desktop changes throughout the day.
Desktop stacks. Automatic sorting by kind, date or tag. Drag in and out.
Finder: Added Gallery view. For phots, full metadata in sidebar. Quick actions on bottom. Add watermark.
Quicklook adds access to Markup tools. Trim videos inside QuickLook
Screenshots. Lots of new features. Cut section of video and drop it into document
Continuity Camera. Control camera from Mac.
Apps: Bringing News to the Mac.
Stocks to the Mac. (Deja vuL We heard this before for the iPad).
Voice Memos too. Sync via iCloud.
Home coming to Mac (applause)
Security and Privacy. "One of the reason people come to the Mac." Protected by default for any app you run on the system.
Intelligent tracking. Shutting down tracking via Facebook or a comment stream.
Fingerprinting. Beyond cookies. Your device can be identified by configuration, fonts, plug-ins. Now it's going to be dramatically more difficult to do that. (big applause)
11:34 Tim Cook is back. Next up: the Mac. "We love the Mac." No applause. Huge leap forward. MacOS. Craig back up to talk about it.
11:25 Jen comes to stage to update TVOS. Upgrade to 4K. Delayed applause.
Dolby Atmos. Room shaking, at least in the convention center. Moves sound in 3D space (?).
Apple TV App. Live sports and live news brings total to > 100 channels. "The best box to attach to you TV." Canal Plus in France. Salt in Switzerland. Charter Spectrum in U.S. later this year. Up to 50 millions homes (if users switch).
Single Sign-On introduced last year. (Which was hit or miss). Now: Zero Sign-On. Charter Spectrum only, for now.
Arial remote screen savers now identify the location. New: View from Space Station. Cool. Big applause for NASA.
11:24 Tim Cook is back. Next up: Apple TV. 50% year over year growth since introduced (from what?)
11:20 Lynch is back. Student ID on Wallet this fall in six universities.
Gay pride face and band available today.
11:16 Jules comes to stage to do demo while biking.
11:05 Kevin Lynch (with new beard) takes stage to introduce WatchOS 5.
Health and fitness: Largest biometric study ever. Activity sharing has become one of most popular features of Activity. So now they make it a winning/losing game.
New fitness trackers. Yoga. Hiking. Cadence for runners. Automatic workout tracking. And ending. Both good. But still no tennis!
Being Connected. Introducing Walkie-Talkie. Cellular or WiFi.
Siri watch face. Adding new content. Sports, maps, heart rate. Shortcuts for Watch too. 3rd Party apps on watch face.
Don't need to say Hey Siri. Just raise your wrist.
Webkit content. Menus etc.
Podcasts on Watch OS 5. Apple Podcast app. Overcast?
11:03 Cook is back on stage. Let's talk about Apple Watch. Apple Watch is No. 1 in customer satisfation (compared to what?). Apple Watch grew 60% last year (from what?). Anecdote about wife saving husband by calling 911 with Watch. Saved husband's life.
Introduces WatchOS 5:
11:02 Summing up iOS 12. Hands back to Tim
10:57 Federighi: Let's talk about FaceTime. Big leap forward: Group FaceTime. Up to 32 people. Join in and drop out at any time. The Roster. Speaker's icons come front and center when they start talking. Tim Cook jumps on board with his own Memoji.
10:53 Memoji demo. Skin color. Hair. Freckles. Shades. Fun.
10:51: Communications, starting with messages. Animoji gets Tongue Detection. Four new animoji. TRex etc.
Memoji. Create your own icon. A diverse set. Introduces Kelsey with live demo.
10:43 Federighi back. Getting serious now. Apps that give us Fear of Missing Out. Today: Comprehensive set of features to protect you.
Do Not Disturb during bedtime. (How is that different from now?) New: Set a time limit etc.
Notifications: Instant tuning. Instantly turn off or delay.
Group notifications (big applause).
Screen time: Insight and control over how you spend your time. Weekly activity summary for iPhone or iPad. Set your own limits. Kids get activity reports, and parents do as well. Parents can create allowances. This is going to be interesting. Big applause for this segment.
10:38: Susan to introduce update to Apps, starting with News. Top stories are hand-picked. New sidebar on iPad.
Stocks App rebuilt. Added spark lines. And bringing Apple News to stocks. (Replaces what???) Includes after-hours pricing (yay!). Bringing Stocks to iPad.
Voice Memos: Rebuilt to make it easier to use. Bringing to iPad. With iCloud support. (Good!)
iBooks: New design. New name: Apple Books. "Very dramatic" gets weak applause. New store for browsing audiobooks.
Car Play: Supports Waze and Google Maps. (BIG applause!)
10:35 Kim comes to give demo. Order Philz Coffee from lockscreen. Tell Ari I'm running late. "Travel plans" so you can get your travel details. "Isn't that cool" gets a big applause. Gallery of premade shortcuts. Heading Home. Adds Play NPR radio. "Right?" Applause.
10:31 Now, Siri. Silence in the hall. "We all know that Siri works" ... Hmmm.
Introduces Shortcuts. Add phrases like "I lost my keys" to start ringing your Tile. Siri Suggestions. Suggest that you order coffee, as usual, in your lockscreen. Shortcuts app lets your combine phrases. Drag and drop steps in the Shortcuts editor.
10:23 Federighi: Making Photos even better (just getting it to work would be a start). Highlighting Categories, Memories and Key Moments is exactly what drives me crazy! This shared photos thing could be a mess.
10:23 Lego takes stage to introduce Assembly Square growing new buildings and characters. Walls disappear. Kitchen fires break out. House bursts into flames. Helicopter puts it out. Amazing up amazing. Ain't demos wonderful?
10:19 Federighi is back to introduce Measure (I've already got an app that does that??) and cool AR + Measure tricks.
ARKit 2: The world's largest AR platform, by far gets updated. Demos a cool wooden block game when two players knock down the same blocks with AR slingshots.
10:17 Adobe takes stage. Bringing USDZ format to Adobe Creative Cloud. Promises WYSWYG in AR. Hmm.
10:09 Craig Federighi (Hair Force One). "You guessed it" joke: new version iOS 12. Boasts about update rate: Half updated to 11 in 7 weeks. Expected diss of Android. Customer sat: 95%. "We are doubling down on performance." A line only an Apple employee could applaud. 12 will support back to l2013 customers.
Optimizing system under load. Loading 2X faster. iOS 12 can detect when you need to ramp up performance. The full range of devices — key phrase, much repeated.
Augmented Reality: Calls it "transformational technology." Working with Pixar to make a new file format USDZ.
10:04 Tim Cook. "It's great to be back in San Jose." Numbers: People from 77 countries. 20 million Apple developers. 6,000 in the hall. Many millions more watching online. App Store turns 10 next month. 10s of millions of new jobs. World's largest app marketplace. 500 million weekly visitors. This week will be the week $ earned by devs will reach $100 billion. Swift is the fastest growing programming language. Over 350,000 apps have been written in Swift on the App Store. Another pitch for Everyone Can Code.
Four platforms: iOS, MacOS, WatchOS, TVOS.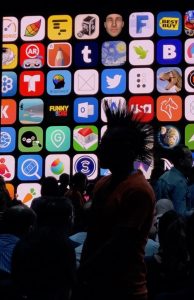 10:00 Room goes dark. Video starts. Developers portrayed in the accent of a BBC nature documentary. Funny stuff. For developers.
9:15 The WiFi in here sucks. Not sure how this is going to work.
9:10 I'm in after the usual unseemly rush to get the seats close to the front. Small Asian women with white press badges were particularly aggressive this year. Just saying.
8:30 Quick hellos to old friends: Horace Dediu, Jim Dalrymple, John Gruber, Tim Bajarin, Rene Ritchie, Mark Gurman, Shara Tibken etc. The circles under Ben Thompson's eyes are deeper than ever. The doors must have opened, because the press just rushed out of here en masse. Packing up my power cords and heading in.
8:15 For those who care about such things, BTIG analyst Walter Piecyk just posted 10 years worth of pre-and-post WWDC stock prices. A decade of data tells a familiar story: Buy the rumor (up 4.1%), sell the news (down nearly -2%).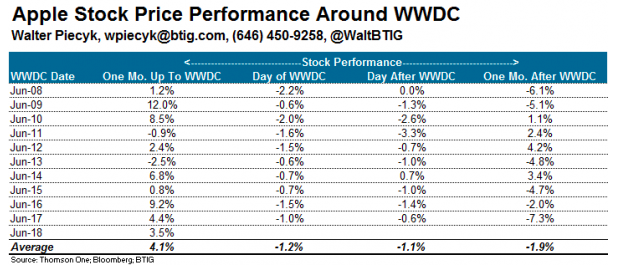 8:00 The food and coffee in the press area are not up to Apple standards. (The opening of the Steve Jobs theater set a high bar). A orange-shirted Apple staffer who made the mistake of getting between me a my coffee blamed it on the people who run the San Jose Convention Center.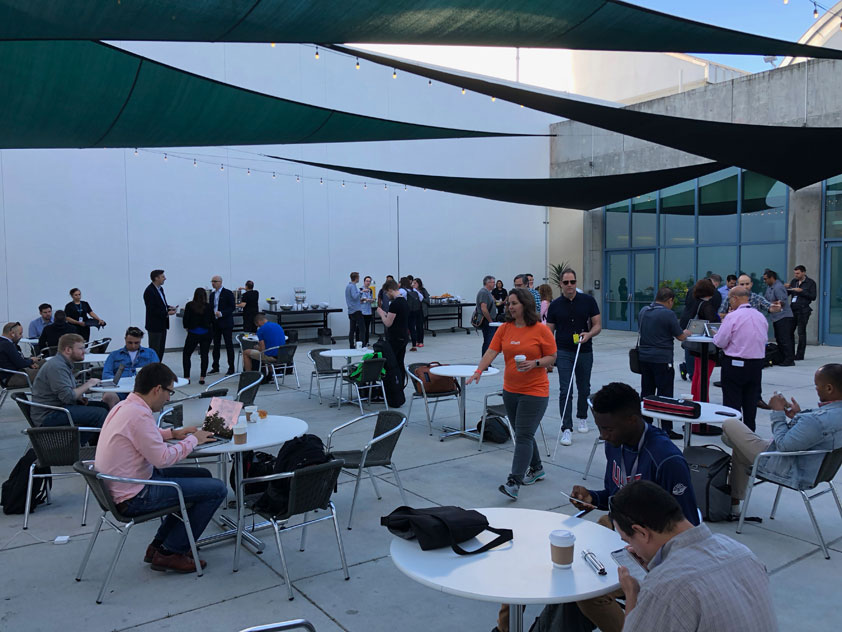 7:45 The media line is moving. I'm headed in.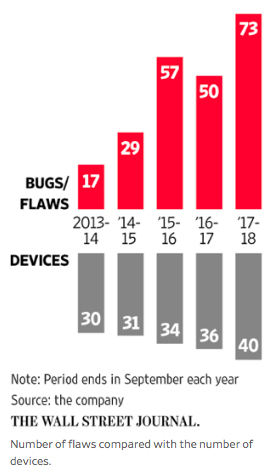 7:30 Friends of the blog are sending me pointers to Nick Statt's WWDC walkup in The Verge ("The stakes have never been higher for Apple software") and Tripp Mickle's in the Wall Street Journal ("Apple's emphasis on iOS performance and quality follows a year in which its software captured headlines for the wrong reasons.") Software quality seems to be the theme of the day. Cool chart in the WSJ.
The queue of tech reporters lining up to register has reached my bench. I see no reason to move.
7:00 I'm just chilling on a bench outside the San Jose Convention soaking up Apple's excellent WiFI and watching the developers march by in uniform—jeans, sneakers, backpacks. Media check-in is supposed to start in an hour; the keynote in three.
To catch the livestream, go here. The show starts at 10 a.m. Pacific, 1 p.m. Eastern.