The media, according to one of Seeking Alpha's better contributors, has got chipmaker TSMC's guidance all wrong.
From a piece Hibben posted Friday:
Over the past few years, I've become accustomed to a seasonal downturn in Apple's share price that roughly correlates with the seasonal downturn in iPhone sales. The weakest period for iPhone sales typically is in the April-September time frame. As can be seen in the chart [below], Apple's share price often suffers sharp declines in the same period.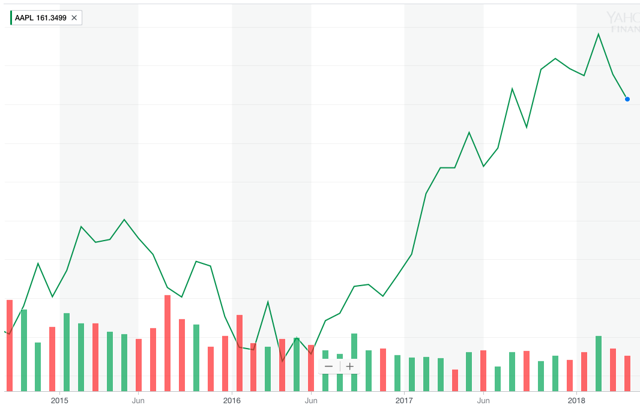 Click to enlarge. 
This year, the coverage has turned negative once again, but with some subtle differences. The attacks on Apple have become more oblique but seemingly more effective. As I write, Apple is in a steep sell-off that started last week, when ASML Holding (ASML) reported earnings. ASML is a supplier of lithography equipment for chip manufacturers, and the first seriously negative report of the season concerned ASML, Apple, and Apple's semiconductor manufacturer, TSMC [Taiwan Semiconductor]...
The media largely ignored the fact that TSMC had achieved a process breakthrough in being first to 7 nm. Instead, the media focused on TSMC's supposed negative guidance, as exemplified in Bloomberg's "Chipmakers' Rout Widens After TSMC Ignites Smartphone Fears."
But note that the forecast cut was only in the amount of year-over-year growth. TSMC wasn't trying to say that revenue would decline, or even that growth would be less than last year...
What about the "smartphone weakness" that was prominently featured in media reports? In his prepared remarks, co-CEO C. C. Wei was careful to refer to "continued softer demand from the smartphone segment" in his guidance for Q2. This was widely reported as a reference to Apple, but I think Wei's words were carefully chosen.
The fact that Bloomberg was so anxious to portray TSMC's guidance as a negative, and then lay this at the feet of iPhone X, should be deeply disturbing to any objective observer. There simply was no basis for the inference that has been widely made that TSMC's results and guidance foretell a steep decline in iPhone sales.
TSMC's revenue in Q1 grew by 12.7% y/y to $8.459 billion. TSMC's revenue guidance for Q2 called for revenue growth of 11% y/y at the midpoint of the revenue range of $7.8-7.9 billion. How does this guidance translate into a sharp decline in iPhone X sales? I don't know.
My take: If Hibben is right about the iPhone X, nearly every other commentator must be wrong.