Nine charts, with commentary, by friend-of-the-blog Jeff F: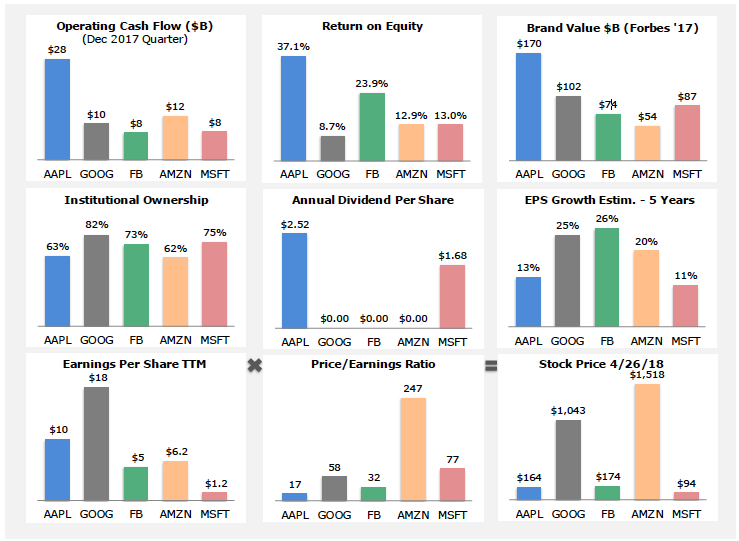 Click to enlarge.
Jeff's observations:
Institutional ownership of AAPL continues to lag. I believe this is factor explaining the higher P/E ratios of the others, excluding AMZN (institutions are likely wary that its valuation has gotten ahead of itself).
Five Year EPS Growth rates need to be updated by Wall Street for Apple's expected large share buyback on the order of $100- $150B. Tax rates will also boost these growth metrics, but that's a relative issue, as all companies are impacted. Not incidentally, Apple is scheduled to report a 30% YOY increase in net income for the March 2018 quarter.
Even assuming Wall Street growth rates are correct, it's hard to see how they explain the P/E ratios assigned to AMZN, GOOG and MSFT, and the resulting share prices.
Given Apple's stated commitment of getting to cash neutral, Apple is going to have to purchase far more shares than what WS is currently anticipated to announce on May 1 ($100B). Although I did not chart it here, Apple's cash is still king, reporting the highest amount of cash as a % of share price in the group.
My take: Apple still trades like a steel mill going out of business.