Spotted by a site that tracks internal job listings.
From Apple is hiring hundreds of engineers to make Siri smarter, posted Friday by Thinknum's Joshua Fruhlinger:
Apple hiring trend data suggests that the company is finally taking its Siri intelligent assistant seriously. According to hiring data that we track at Thinknum, the number of open positions that contain the term "Siri" has accelerated in recent weeks, with a current all-time high of 161 job listings posted today alone. This marks a jump in hiring for the keyword of 24% in just over a month.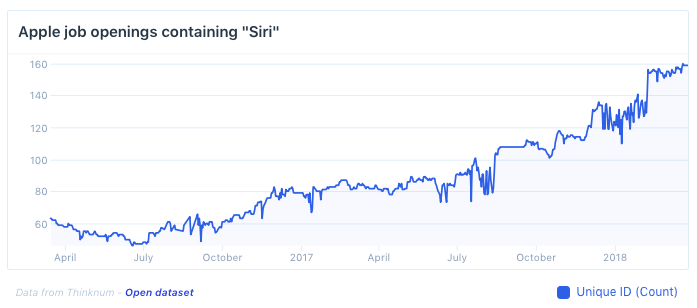 A close look at the data reveals two discrete spikes in Siri job openings:
31 new listings in mid-August, 2017, when Craig Federighi took over what had been an Eddy Cue project.
30 new listings between Feb. 7 and Feb. 9, 2018, right after the Siri-powered HomePod received its mixed reviews, e.g. Super Sound, but not Super Smart.
Of 161 Siri job openings Friday, 154 called for software engineers.
My take: Oh, to have been a fly on the wall in Apple HQ the day those HomePod reviews hit.
See also: