Why Apple lost more ground this year in the Harris Poll's "reputation quotient" survey than any other tech brand.
In 2009, two years after Steve Jobs unveiled the iPhone, Apple was ranked No. 14 in the Harris Poll's annual RQ (reputation quotient) survey. By 2012, it was No. 1 and it remained one of top 5 U.S. brands for four out of the next five years.
But something about the Apple brand soured last year, according to Harris. Between 2017 and 2018 the company Jobs co-founded fell from 5th place to 29th, the biggest one-year fall from grace in percentage terms of any U.S. company except Johnson & Johnson. The chart below shows the ups and downs of five top tech brands: Amazon, Apple, Google Tesla and Facebook.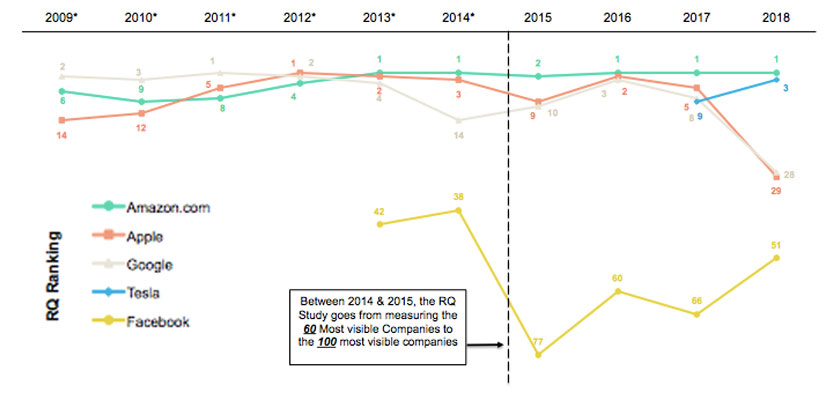 Click to enlarge.
Note: The survey was conducted over four weeks between December 2017 and January 2018 — before the Facebook/Cambridge Analytica revelations and after Elon Musk launched a Tesla into space.
It's tempting to dismiss any survey that can be so easily manipulated by a showboat like Musk. That would be a mistake. This is a big poll—25,800 adults—using methodology Harris has honed over nearly two decades. It's a two part process: First Harris asks a scientific sample of the general public to identify the most visible ("top of mind") brands, then its asks respondents to pick out the companies with the best and worst reputations along six dimensions, from emotional appeal to financial performance. Apple fell last year in all six.

Click to enlarge.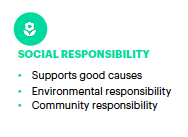 These scores should be cause of real concern in Cupertino. By one measure that Tim Cook talks a lot about, social responsibility, Apple fell from a high of 81.6 in 2012 to 75.7 in 2018, a 7% drop in the space of six years.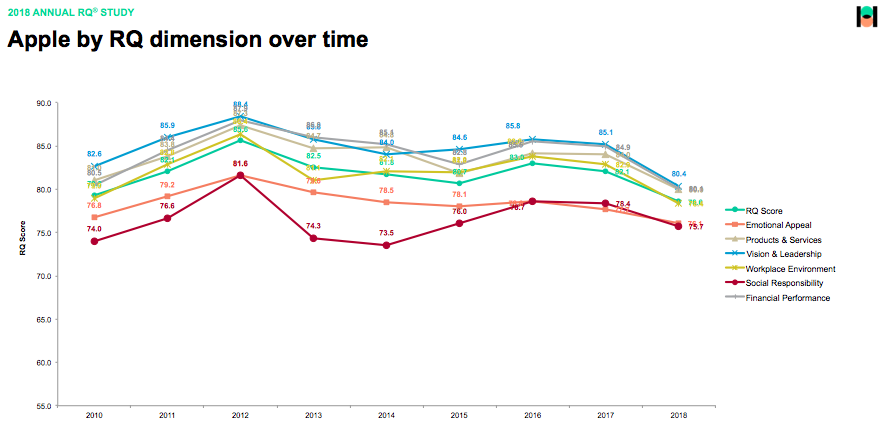 Apple even took a hit in "financial performance" last year, dropping 4.8% despite record results.
"This is counter-intuitive, as Apple is having a great year on the market," says Libby Rodney, Harris' chief strategy officer. "But this is the voice of everyday consumers. They're smelling that the iPhone X is too expensive. They're thinking: 'Apple has lots of cash on hand, but what are they doing with it?'"
Rodney, who has worked in the past on GoDaddy TV commercials and the rebranding of Time Warner, had a lot to say about why Apple's reputation has suffered. From my notes:
Apple has been getting away from what consumers find valuable about the company. When Apple was No. 1, it was redefining categories. That was the fundamental value it brought to the party. When it introduced the iPod, the iPhone, the iPad, these were things we'd never seen before—innovations on a whole new level.
It's more than just "what has Apple done for me lately," says Rodney. It's about how Apple's day-to-day narrative compares with those of other tech companies. For example, she says:
From Amazon, we're getting a constant stream of little stories: "Now we're going to lower the costs at Whole Foods. Now we're going to ship to you within two hours. Now we're building a cashless store."
Elon Musk is doing the same thing on a different level. "This is the future," he says. "We're going to Mars!"
The bottom line, says Rodney, is that Apple hasn't done that as much as the public expects them to.
See also: Why did Apple's reputation quotient fall from grace? I have a theory...