The analysts' estimates—which include iPhone 8 shipments but not iPhone X—range from 42 million to nearly 51 million.
It may seem odd to be talking about last quarter's iPhone sales when investors are so focused on this quarter. But it's the results from fiscal Q4 2017—the quarter that ended Sept. 30—that Apple will be reporting next week, and they won't include the iPhone X.
The 24 analyst I've heard from so far—18 Wall Street professionals and 6 independents—are a bit more optimistic than they were in July. Last summer their consensus was that iPhone sales in Q4 would come up shy of last year's 45.5 million units. Now most are expecting Apple to beat last year's sales, by anywhere from half a million iPhones to more than 5 million. Average estimate: 46.55 million, up 2.3% from the same quarter last year.
Here's what that looks like (click second column see how year-over-year growth fell and has started to recover):

Not seeing the interactive chart? Try the website.
Below: The individual analysts estimates, pros in blue, indies in green.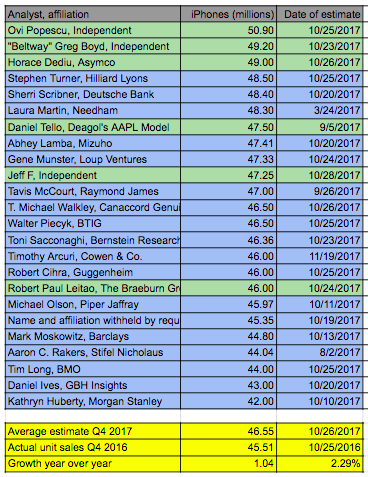 Click to enlarge. 
We'll find out who was closest to the mark next Thursday (Nov. 2) when Apple reports its fiscal Q4 2017 earnings—and its total earnings for the fiscal year.