Who knew that the iPhone's average selling price (ASP) would be higher today than it was 10 years ago?
From a note to investors by veteran Apple analyst Robert Cihra, now at Guggenheim:
Back when the iPhone launched in 2007 starting at $499, not only was that already 2.5x the cellphone market's $200 ASP but we do not believe anybody expected its price to be higher 10 years later…
Over the past decade, with investor focus typically on iPhone units, we believe the biggest upside driver to Apple's economics has rather been its ASP. Instead of iPhone ASPs declining in a classic deflationary hardware pattern like the 7% per year PCs did during their primary growth years, iPhone ASPs have rather increased in 6 of the 10 years since introduction, with our analysis suggesting that ASP difference is now worth $88B or 60% of Apple's iPhone revenue in FY17E. Lower prices might have driven more unit sales elasticity, but we think iPhones rather pushed their deflation into those standalone devices they consumed.
Reiterate Buy and $180 price target. 
Below: What if the iPhone's ASP had dropped like the Mac's.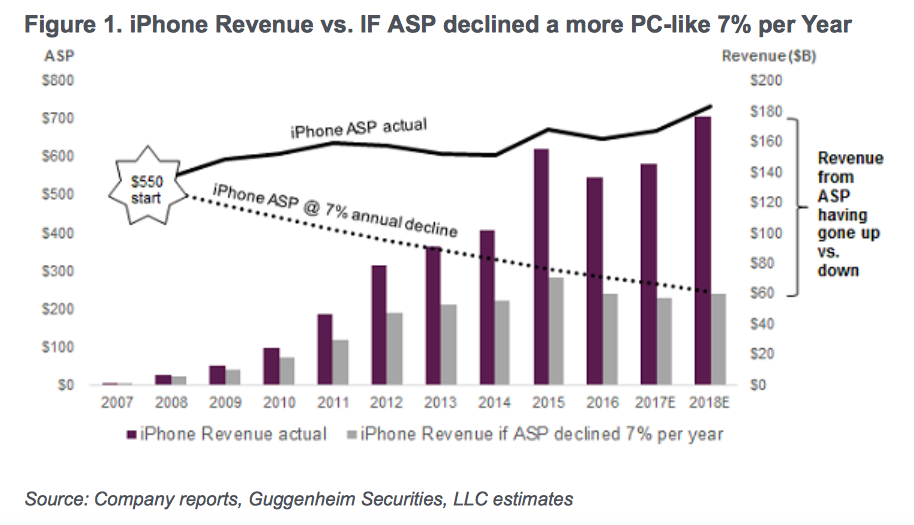 Click to enlarge. Not seeing? Try the website.