Hip-hop and Chance the Rapper leave Apple's older fanbase feeling logy and unloved.
Apple senior vice president Eddy Cue sounded quite pleased with himself in Tuesday's Billboard interview:
"It's been quite a year," says Cue. "We were thrilled to see that we could take [artists'] passions and drive them all the way to No. 1. Chance the Rapper, who we put on Apple Music exclusively, hit the top 10 on the Billboard charts [based on streams alone], and I can't recall that being done before." ...Despite a mandate from Universal Music Group chairman Lucian Grainge, exclusives will continue in the near future "where appropriate," adds Cue. "They work really well for everybody concerned -- they're great for the label, they work for the artist and for us."
In the case of hip-hop artists, Apple is clearly leading the streaming charge and helping influence traditional radio and club play as well. Not surprising with Interscope Records founder and Dr. Dre bestie Jimmy Iovine at the helm, but Cue adds that Apple has long looked to give the genre more exposure, even if the Silicon Valley institution has traditionally been affiliated more with rock acts like U2 and Cue's favorite Bruce Springsteen. "We've always thought that hip-hop was underrepresented both in iTunes and in the streaming chart. And more people listen to hip-hop now than ever before so we've done a lot of work in that area."
Guitarist and long-time Apple loyalist Jim Dalrymple is not so pleased. From The Loop:
I've said this since the launch of Apple Music, but it seems very clear now. "Music" is no longer in Apple's DNA—hip-hop is what's important to Apple. Again, it's a numbers game. More people are listening to that genre than ever before, so Apple can leave the Rock/Blues/Metal acts to another service and still add subscribers using hip-hop exclusives. It's actually refreshing to see Apple finally admit it.
People like me with an existing music library that rely on the often non-working iTunes Match are no longer Apple's market. I even opened up a second Apple Music account to see if iTunes Match would work—it didn't.
In a lot of ways it makes perfect sense that Apple is building a music service that doesn't require a music library—there's less hassle and they don't have to rely on services like iTunes Match to please those customers. Apple is catering to those customers very well. However, it's a shame they don't care about the rest of us any more.
Ouch.
Below: Apple Music vs. Spotify's paid subscriptions, courtesy of MusicBusinessWorldwide.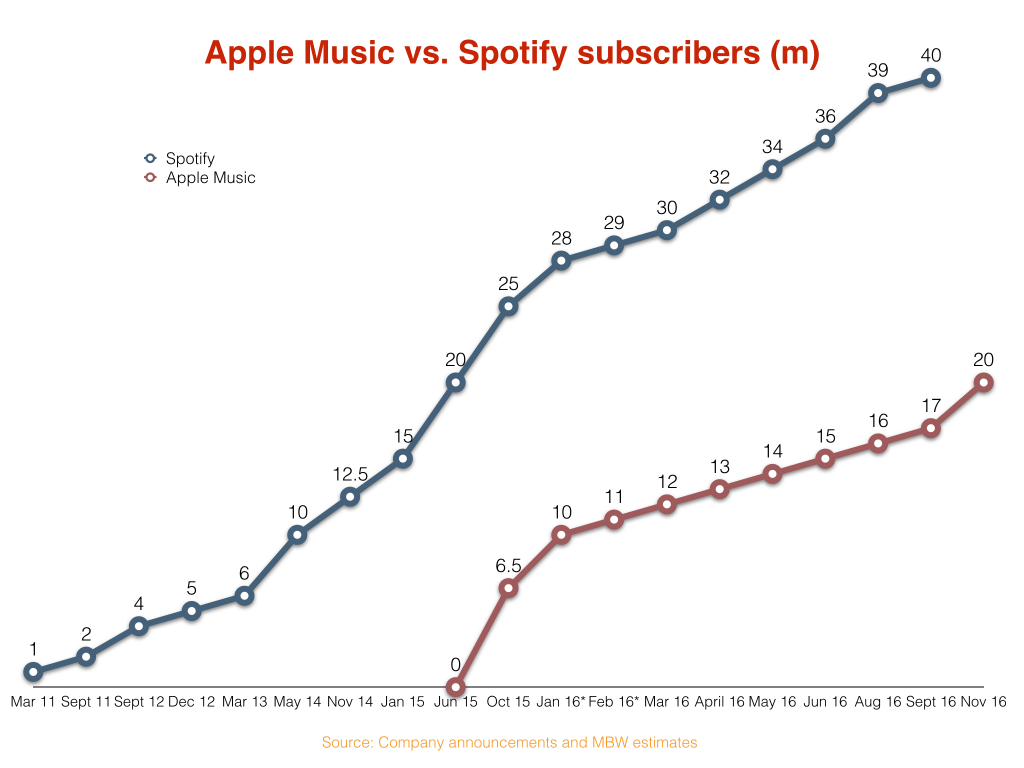 Click to enlarge. Not seeing the graphic? Try the website.