Apple 3.0 picks up where Apple 2.0 left off.
With the world's most valuable company—and the hedge funds' favorite punching bag—set to report earnings after the markets close today, the eyes of Wall Street are once again on Apple.
Apple's share price has been under pressure for the better part of a year, but this is the quarter investors have been dreading. This is the one when iPhone sales not only stop growing (as they did last quarter) but fall year over year for the first time. For an electronics giant that wishes it were valued as a growth company, the optics are not good.
It had to happen some day. Not only have global smartphone sales flattened, but Apple has the kinky pleasure of being punished for its own success. In fiscal 2015, pent-up demand for the first large-screen iPhones spilled over from a record December quarter into a record March. That quarter, Apple sold 61 million iPhones and generated revenues of $58 billion.
That Apple would sell fewer and make less in Q2 2016 has been known for some time and has, I assume, been priced into the stock. What matters now to Wall Street is how sharply sales fell in March and how much they might fall in June.
My panel of analysts—the same mix of Wall Street professionals and veteran amateurs I used at Fortune—is calling for revenues of $52.4 billion in Q2 and $47.9 billion in Q3. I've posted the individual estimates below.

Not seeing the graphic? Try the website. 
Below: My Q2 pre-earnings spreadsheets. Corrections welcome. Click to download.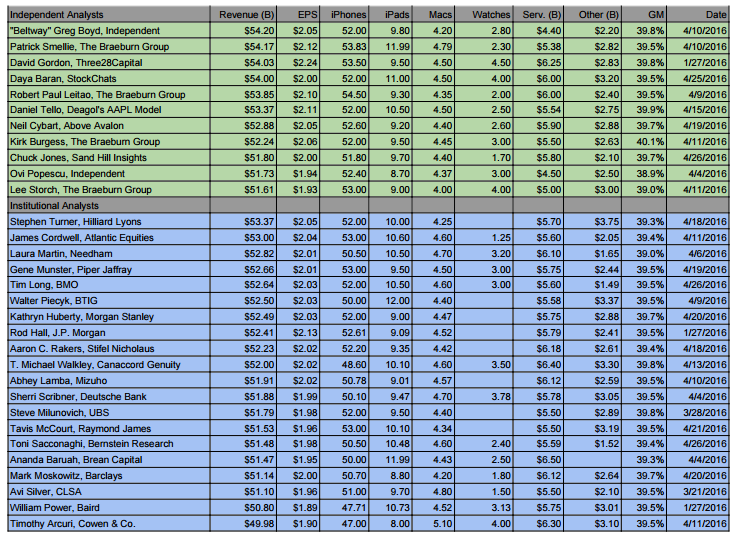 Tune in after the markets close Tuesday April 26 for Apple's results. I'll be auditing the earnings call and you can too. Here's the webcast link.
I'll post the analysts' reactions Wednesday morning and the best-and-worst list that afternoon.
Thanks, as always, to Posts at Eventide's Robert Paul Leitao for pulling together the independent Braeburn Group numbers.