The analysts' estimates range from 8 million to 12 million.
Apple will report iPad sales next week and they don't look great. The consensus among the analysts we've heard from is that unit sales are headed for their ninth consecutive year-over-year decline.
The 12.9-inch iPad Pro, which shipped last November, didn't turn the tide in Q1. And its 9.7-inch sibling shipped on March 31, too late to make it into next week's results.
So in the chart below it still looks like peak iPad passed two years ago.
Based on the average estimate of 31 analysts, the Street expects Apple to report sales of just under 10 million units, down 21% from the same quarter last year.
Low estimate: 8 million from Cowan's Timothy Arcuri
High estimate: 12 million from BTIG's Walter Piecyk
We'll find out who was closest to the mark after the markets close on Monday, April 25.
But first, one chart and one spreadsheet:
The analysts' individual estimates, pros in blue, indies in green.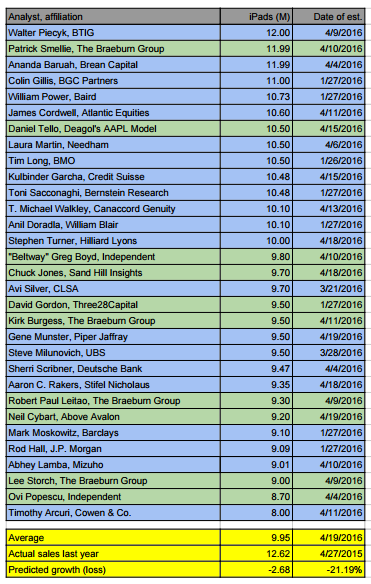 Thanks as always to Posts at Eventide's Robert Paul Leitao for pulling together the Braeburn Group numbers.