One Apple factory worker's story.
From "Apple's Reliance on China Grows Perilous With Chaos in iPhone City" ($) posted Thursday:
Xiao Han was just wrapping up the weeklong quarantine that marked the beginning of his latest stint working at the sprawling manufacturing complex in Zhengzhou, China, known as iPhone City when violence erupted there in late November...
Xiao arrived at iPhone City in July, renting a room of a dozen square meters (about 130 square feet) for 350 yuan ($50) a month in a nearby town. The space was cheap because of its location — Xiao had to walk more than 40 minutes to get to work. His job was simple, peeling protective plastic from display components that would be used on iPhones and other devices. He's helped make every version from the iPhone 5 to the iPhone 14, laboring 10 hours a day as production cranked up for a new model.
In early October, Xiao heard rumors about Covid infections at the campus. Soon after, Foxconn began asking workers to take designated commuting routes every day and stop any private gatherings, according to company announcements and workers inside the campus. Yellow plastic barriers about 2 meters tall were set up along roads to create lanes for workers to commute between dorms and the factory, but the restrictions were often violated. Some of Xiao's colleagues climbed around the barriers to go into a town neighboring the compound...
The daily Covid testing also proved to be flawed. As many as 20 workers' throat swabs were put into one tube to speed testing and lower costs. If the results came back positive, all the workers whose samples were in that one tube were put into isolation for further testing...
Zeng was put into isolation three times in one week, he says, even though he ultimately never had Covid.
In some dormitories, trash piled up for weeks because no one was allowed to leave the building. Covid-free workers nicknamed colleagues who got Covid "sheep" because the word's pronunciation is the same as "positive" in Mandarin. The emoji for sheep was also used to represent positive cases on social media to evade censorship from Chinese social media platforms that were deleting posts related to tensions at iPhone City...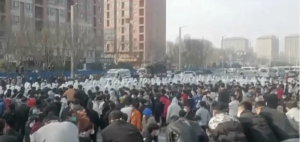 The breaking point for many workers came on Oct. 28, when Foxconn announced strict measures to enforce a tighter closed-loop system. The company asked Xiao to move into dormitories it had set up for workers in surrounding areas, but he worried about catching Covid because the facilities included people who had tested positive. He thought it was unsafe.
One night, just after 7 p.m., Xiao's landlord told him it was his last opportunity to flee. He quickly packed his belongings and hopped into a small Volkswagen sedan with two co-workers. Guards at health checkpoints along the highway wouldn't approach the car after learning the people inside were coming from Foxconn, which made the trip home a bit easier. Back in his hometown, Xiao got increasingly frantic calls from local government officials, offering special bonuses if he would return to iPhone City. He "bowed to life" and headed back to the Apple plant in late November.
But Xiao says he and others were stunned to soon find out Foxconn wouldn't hand over a promised extra 30 yuan in hourly pay unless they kept at their jobs until mid-March. Foxconn told workers it was in keeping with the contract, but many felt betrayed regardless.
Following the riot, Xiao started packing up again. He says he'll stay in Zhengzhou to look for a job somewhere else. "Foxconn is not the only place that's hiring," he says.
My take: A well-reported piece -- the kind that takes you inside the story. Kudos to Betty Hou, Peter Elstrom and Yuan Gao.