"Handset revenues as well as profits are largely driven by Apple."
From "Global Handset Market Operating Profits Grow 6% YoY in Q2 2022 Despite Declining Revenues" posted Wednesday by Counterpoint Research:
Global handset market revenues declined for a second consecutive quarter, falling 2% YoY and 15% QoQ to $95.8 billion in Q2 2022, according to the latest research from Counterpoint's Market Monitor service. A fall in global handset shipments due to factors including Chinese lockdowns and ongoing geopolitical uncertainty caused the revenues to decline despite the average selling price (ASP) going up by 6% in the same period. Consequently, the annual operating profit growth of 6% corresponded with ASP growth rather than shipment decline, reaching $13.1 billion in Q2 2022.
Cue the full charts: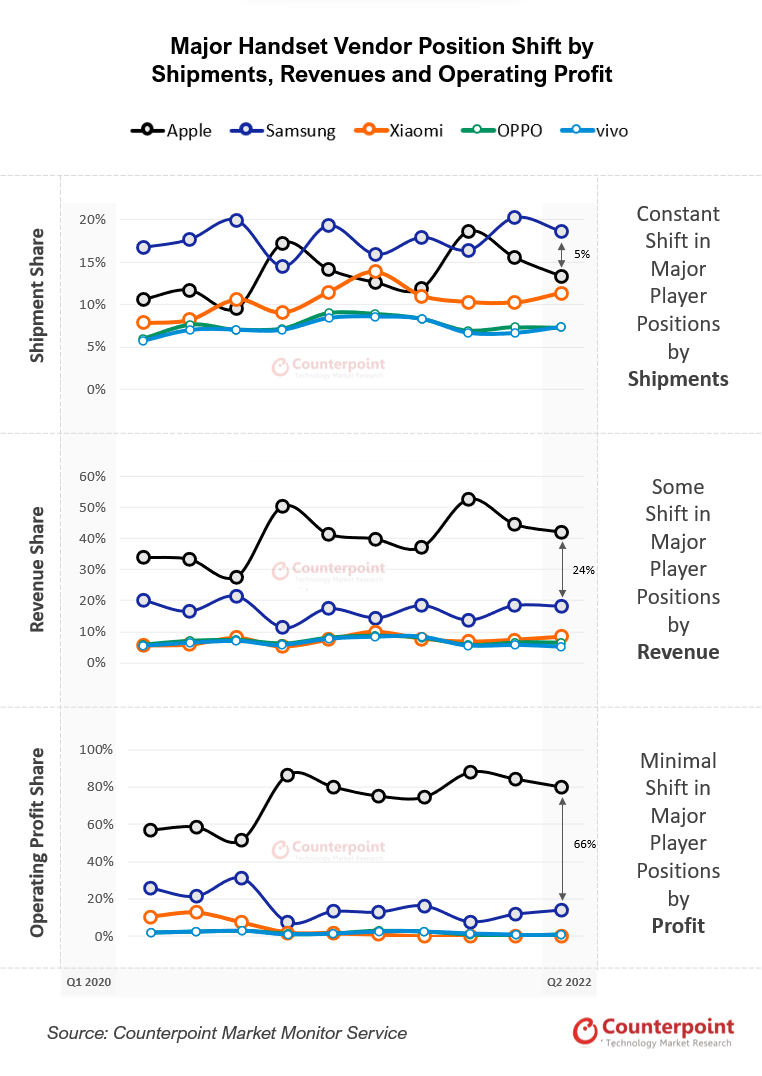 Given that handset revenues as well as profits are largely driven by Apple, as can be observed through the disparity in revenue and profit share in the chart above, we expect a growth in both the aspects in the second half of the year.
Associate Director Jan Stryjak said, "Revenue growth in the second half of the year, when compared to the first half, is a near certainty due to the cyclical launch of the highly profitable and relatively economic downturn-resistant iPhone. But with geopolitical uncertainty worsening, inflation levels rising and fears of recession growing, the handset market is bound to get impacted and may take longer to return to the trajectory predicted prior to the pandemic."
My take: Apple is doomed.