From friend-of-the-blog Bartley Yee:
Well, whether frustratingly lucky for The YES network or Yankee fans, Judge didn't hit his 61st and record tying home run while on Apple TV+.  But Apple got plenty of viewers and it will be interesting if Apple got a lot of new Apple ID's or at least tons more checking in on the streaming broadcast.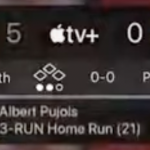 But Apple TV+ (and LA Dodgers fans in attendance) REALLY got its Friday Night MLB Baseball money's worth with the evening St. Louis Cardinals vs LA Dodgers game and Albert Pujols' historic #699 AND #700 home runs off Dodgers' pitching.  EVERY replay shown worldwide on news and sports channels, and on YouTube - Twitter - Facebook will have the Apple TV+ logo in it for eternity. So even though my LA Dodgers didn't put up much of a fight, they and Apple TV+ were part of history making today with Albert Pujols.
My take: If you missed the brouhaha, here's a rundown from The Verge
NY AG tries to explain how Apple's free Yankees stream is worse than cable TV
Too long; didn't read? Here's a video:
Everyone complaining about Apple TV's Yankees game sounds dumb