With in-app purchase prices soaring, Apple invites developers to buy more ads.
From "The average price of in-app purchases have increased 40% on iOS and 9% on Google Play since last year" posted Tuesday on apptopia:
The average price of an in-app purchase (IAP) in the U.S. on the iOS App Store has increased 40% year-over-year (YoY) in the month of July. That number is 9% on the Google Play store. With the Consumer Price Index up 8.5% YoY, people are seeing prices rise almost everywhere.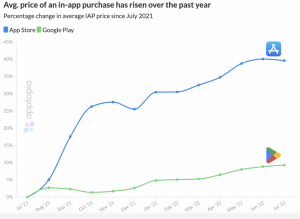 You'll notice the rise on iOS comes much before inflation (not the case for Google Play) hit hard in 2022, indicating publishers may actually be reacting to increased effective cost per install (eCPI) due to Apple's App Tracking Transparency (ATT) policies making it more expensive to acquire users. Data from mobile measurement company, Adjust, shows the rise in eCPI correlating with that of IAP prices going up. eCPI is essentially how much it costs to get a new user to install a publisher's mobile app...
If you're thinking these percentage increases seem very high, you just need to remember that in terms of absolute numbers, these price increases are not that much. For example, Metronome Beats: BPM Counter increased its Metronome Beats Pro IAP from $3.99 to $4.99, a jump of 25%. In another example, Pinkfong Baby Shark increased its IAP to remove ads by 100%, moving from $1.99 to $3.99.
From Kif Leswing's "Apple plans to sell ads in new spots in the App Store by year-end" posted Tuesday on CNBC:
Apple plans to release new ad "placements" as soon as the holiday season, according to a message sent to developers on Tuesday inviting them to an online session to encourage them to buy ads.
The new spots represent a significant expansion in Apple's advertising inventory, which is focused on its App Store. In recent years, Apple's advertising inventory has been limited to one unit in the Search tab on the App Store and one on the search results page.
 "With new opportunities coming to Apple Search Ads, you can promote your apps across the App Store to engage even more customers this holiday season," according to the message, which was posted by Mobile Dev Memo founder Eric Seufert and confirmed to CNBC by a developer who received the invitation.
The message to developers didn't specify where the new ad placements will be offered, but in July Apple announced it was planning to expand its menu with an ad unit on the Today tab, which is the front page of the App Store, and another sponsored unit on app product pages under the banner "You Might Also Like."...
The expansion in inventory comes as Apple's advertising business is under increased scrutiny.
My take: If Apple is concerned about increased scrutiny, it didn't show it today.