Tim Cook used to buy companies at the rate of one a month.
From "Apple Slows Pace of Dealmaking Even as Its Tech Peers Plow Ahead" posted Monday on the Bloomberg: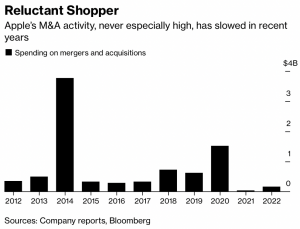 Apple Inc., which used to acquire a company every three or four weeks, has dramatically slowed its dealmaking in the past two years, a sign the tech giant is being more choosy in the face of a shaky economy and heightened government scrutiny.
The company spent just $33 million on payments connected to acquisitions in its last fiscal year and $169 million in the first nine months of the current year, according to regulatory filings. That's down from $1.5 billion in fiscal 2020.
Apple is famous for avoiding the kind of blockbuster acquisitions that have enticed its Silicon Valley peers. But the company has spent much of its history snapping up promising startups, some of which formed the basis for popular features such as Siri and Face ID. Just last February, Chief Executive Officer Tim Cook noted that Apple had acquired 100 companies in the past six years -- more than one a month on average.
My take: Gurman's tally does not include movies and TV shows acquired for Apple TV+.
See also: Look what Apple has picked up since 2018