"The years of rocket-powered annual growth are over."
From "Apple already sold everyone an iPhone. Now what?" ($) in the current Economist:
As it dreams up more gadgets to sell to more people, however, Apple is employing another strategy in parallel. The company has so far put 1.8bn devices in the pockets and on the desks of some of the world's most affluent consumers. Now it is selling access to those customers to other companies, and persuading those who own its devices to sign up to its own subscription services. As Luca Maestri, Apple's chief financial officer, said on a recent earnings call, the Apple devices in circulation represent "a big engine for our services business".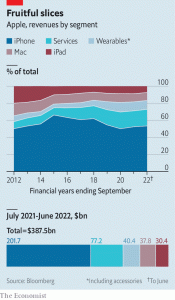 The strategy is picking up speed. Last year services brought in $68bn in revenue, or 19% of Apple's total. That is double the share in 2015. In the latest quarter services' share was even higher, at 24%. Apple doesn't break down where the money comes from, but the biggest chunk is reckoned to be fees from its app store, which amounted to perhaps $25bn last year, according to Sensor Tower, a data provider. The next-biggest part is probably the payment from Google for the right to be Apple devices' default search engine. This was $10bn in 2020; analysts believe the going rate now is nearer $20bn. Apple's fast-growing advertising business—mainly selling search ads in its app store—will bring in nearly $7bn this year, reckons eMarketer, another research firm.
Most of the rest comes from a range of subscription services: iCloud storage, Apple Music and Apple Care insurance are probably the biggest, estimates Morgan Stanley, an investment bank. More recent ventures like Apple tv+, Apple Fitness, Apple Arcade and Apple Pay make up the rest. New services keep popping up. Last November Apple launched a subscription product for small companies called Apple Business Essentials, offering tech support, device management and so on. In June it announced a "buy now, pay later" service. The company claims a total of 860m active paid subscriptions, nearly a quarter more than it had a year ago...
Consumers will doubtless keep buying Apple's shiny gadgets. From now on, when they do so, they will be acquiring not just swanky new devices for themselves but tiny digital storefronts for Apple.
My take: A good introduction for readers who need to have IDC identified as "a data firm" and Morgan Stanley as "an investment bank." No byline. Reminds me of the old TIME.