From a note to Loup Ventures subscribers that landed on my desktop Friday:
From mid-November 2021 to May 19th, we have been tracking lead times at Apple for nine products in six countries. We've found that lead times for 8 of the 9 products have been essentially stable over the past month. It's worth noting that on exception, the MacBook Pro lead time skyrocketed over the past month, increasing from 9 days to 58 days. We estimate the MacBook Pro is about 4% of overall sales.
Cue the bar chart: (click to enlarge)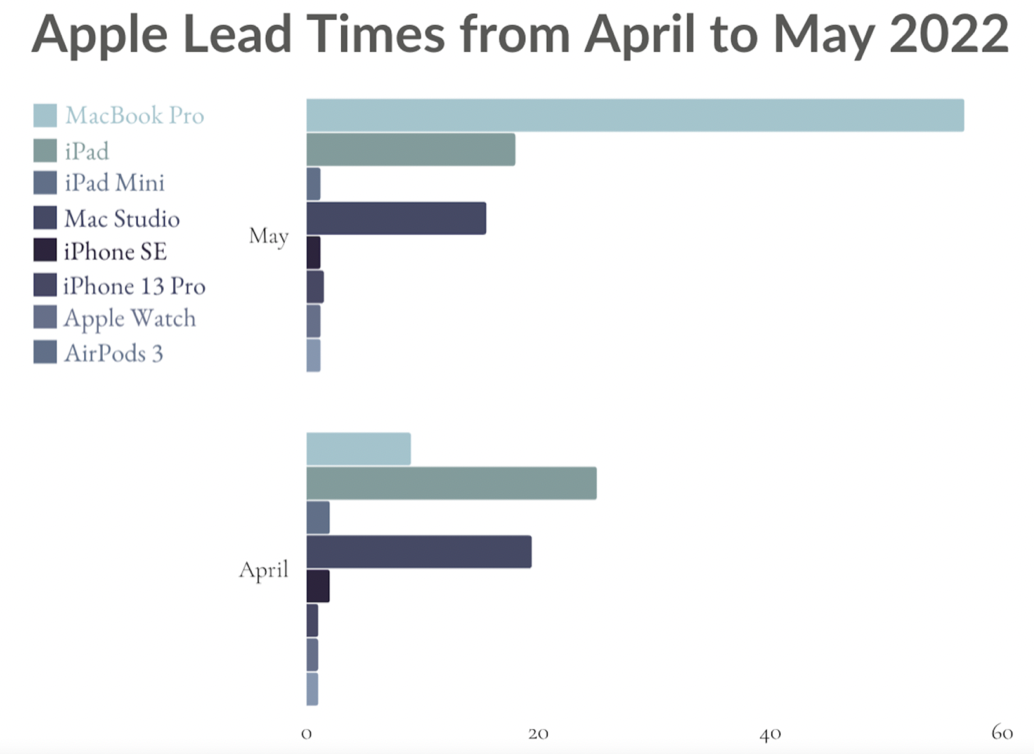 Lead Time Details
Typical lead times for Apple products in the third month of the March quarter are "same day."
Today, Apple is quoting an average of 11 days for the seven products launched last fall and the two new products launched this Spring in six countries (United States, France, Germany, Mexico, Japan, and China). That is a measurable step back from the 7 days we observed at the beginning of April.
MacBook Pro is in the tightest supply among the nine products, with lead times averaging 56.7 days. This is a major increase from the 9 days we observed in April. The Mac accounts for about 10% of sales.
My take: MacBook Pro demand or MacBook Pro supply? You can never tell from these reports.