Adding ads to the Maps app would be the logical next step. -- Analyst Amit Daryanani
From a note to clients that landed on my desktop Sunday: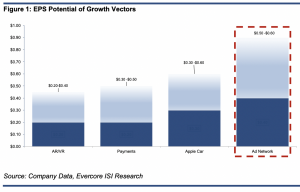 ALL YOU NEED TO KNOW: Apple's advertising business remains small compared to its megacap peers, but it will likely be one of the main engines for growth over the next 5 years.
The majority of advertising revenues currently come from App Store ads, but we see numerous avenues for Apple to expand advertising across its platform. Adding ads to the Maps app would be the logical next step and we estimate Google generates billions from advertising on Google Maps.
Apple has called out quarterly records for advertising revenue in each quarter since the roll out of ATT and we think the business can sustain high growth rate to hit $20B in revenue by FY26 (currently ~$3B in revenue). This would still rank Apple below AMZN's ~$30B in advertising revenue and well below the $200B GOOG generates.
Longer-term, we see potential for Apple to go after the search market, especially if regulators eventually decide the large payment Google makes to Apple for being the default search option is anti-competitive.
Net/net: Advertising presents a great opportunity for Apple to better monetize its 1B+ install base at a high margin.
Maintains Outperform rating and $210 target.
My take: Funny Apple got serious about advertising one week after it kneecapped Facebook. Cue Evercore's timeline (click to enlarge, not to scale):

See also: