From a note to clients by analyst Amit Daryanani that landed on my desktop Sunday:
ALL YOU NEED TO KNOW: We are on week two of our five week series spotlighting the 5 KEY underappreciated growth vectors for AAPL that could further expand their ecosystem and extend the platform.
This week we will focus on AR/VR products, which have become a hot topic post FB's pivot to the metaverse. AAPL has been working on AR/VR solutions for the last 4+ years and we expect the hype into a formal launch in late 2022 to serve as a catalyst to the stock price.
Apple is rarely first to market with a product, but they almost always release a product that defines the category. We expect a similar dynamic in AR/VR as companies like Meta are already selling headsets, but we think the market remains in its infancy and there is still plenty of time for Apple to release a product.
Apple has more than 100 AR/VR related patents and they have done multiple acquisitions to build differentiated technology in the sector. The product will also leverage Apple's leading developer ecosystem, which competitors will struggle to match as Google is the only other company with a similar App Store.
Conservatively, should the AR offering have a comparable trajectory as Apple Watch it could contribute ~$18B to sales and 20c EPS at scale (~4-5% of current estimates). In a bullish scenario, should the adoption trend be close to AirPods the contribution could be $38B in sales and ~40c in EPS at scale (~8% contribution to sales/EPS). We think the implied trust AAPL has built across both consumers and developer community could prove to be a key enabler for AAPL's success.
Maintains Outperform rating and $210 target.
Cue Evercore's cumulative seven year sales charts: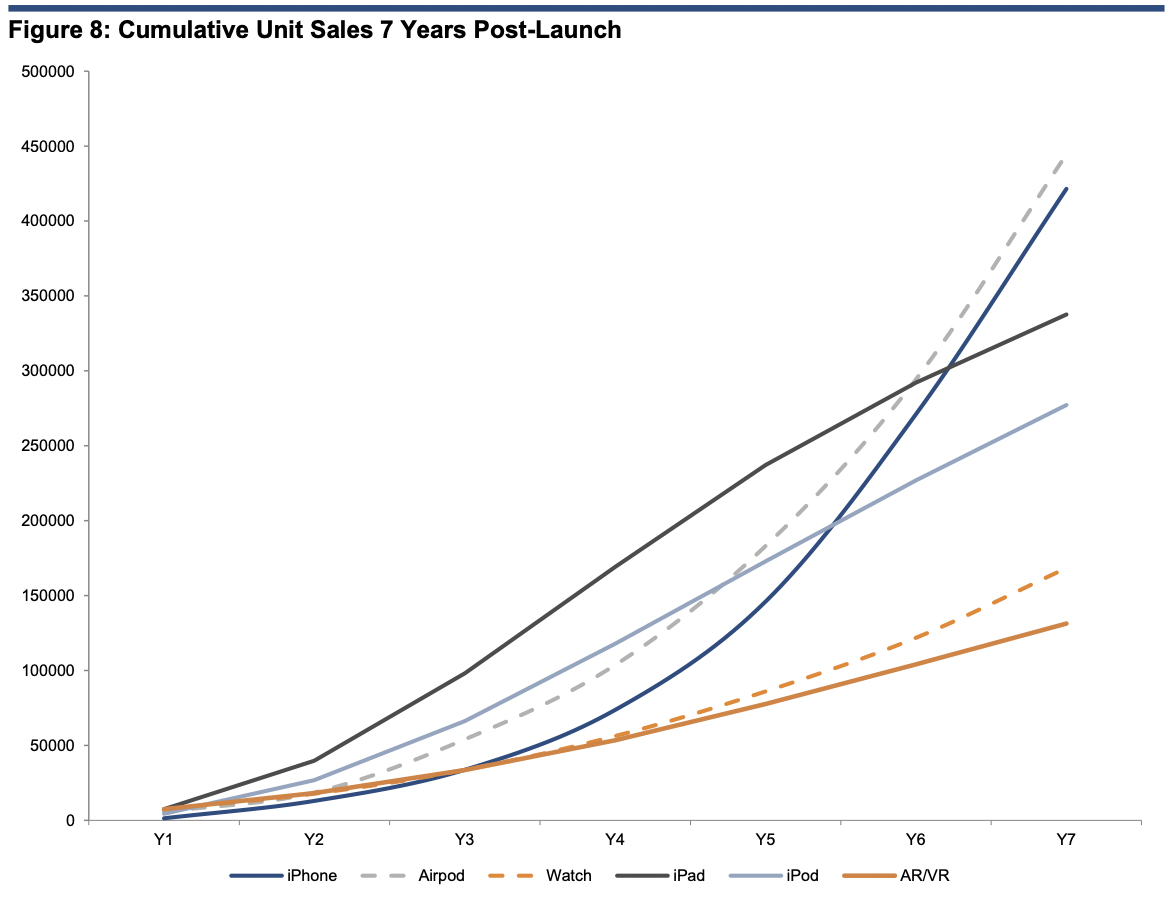 My take: Color me skeptical. I've got a collection of dusty VR glasses in the basement. Not having seen the devices he's talking about, I have a hard time imaging sales growing at rates approaching any of these products.