"April App Store Accelerates To +8% Y/Y With Green Shoots Emerging"
From a note to Morgan Stanley clients that landed on my desktop Tuesday:
April App Store net revenue growth accelerated to 8% Y/Y, as strength in China offset weaker trends in the US. Based on the latest disclosures from Sensor Tower, we estimate App Store net revenue growth accelerated to +8% Y/Y in the month of April, a 2 point acceleration from March quarter growth of 6% Y/Y (Exhibit 1).
While the acceleration in growth is slightly weaker than we expected given the easing Y/Y compares, we see green shoots emerging in important markets and regions.
For example, App Store net revenue growth in China, which accounts for 26% of total T12M App Store spend, accelerated from +1% Y/Y in C1Q to +11% Y/Y in April despite an 4 point more challenging Y/Y compare, likely aided by renewed COVID lockdowns in major metropolitan cities...
In total, 4 of the 10 largest App Store markets saw growth in April accelerate from C1Q22. Importantly, China gaming net revenue grew 6% Y/Y in April, an 18 point acceleration from 12% Y/Y declines in the month of March, which we believe was aided by the approval of new video game licenses in April, the first since July 2021.
The improved positioning in these regions more than offset weaker growth in the US, where App Store net revenue growth decelerated 3 points from March to 6% Y/Y in April, even off an 18 point easier compare.
By category, only 3 of the 10 largest categories saw net revenue growth accelerate in April. However, Gaming – the most important App Store segment at 60% of net revenue – saw growth accelerate 5 points from the March quarter to 4% Y/Y in April, which we see as encouraging (Exhibit 7). Lastly, we'd point out that App Store downloads grew 3% Y/Y and net revenue per download grew 5% Y/Y, showing increased monetization of the App Store.
Cue Exhibits 1 and 7.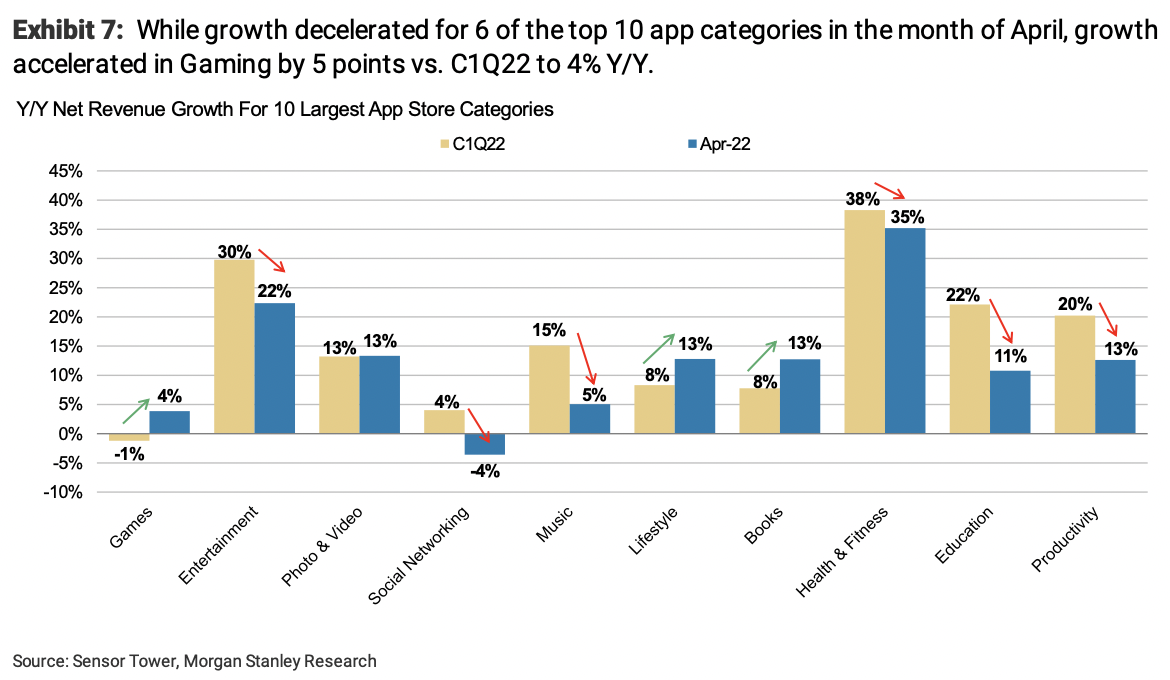 My take: Year over year App Store compares are tough, given how much time people were spending indoors in April 2021. As usual, Hubert's got the data.