A new women in tech report shows that Apple is now ahead of the curve when it comes to its leadership roles.
For a long time, Apple was accused of having a "'male, pale, and stale" leadership – another way of saying "older white men" …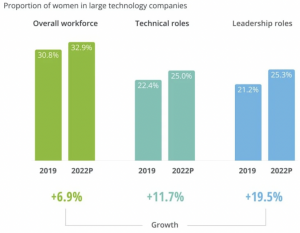 Management consultancy Deloitte has published a new report that shows that when it comes to female representation, tech giants are making progress – and the fastest growth was women in leadership roles. The company compared 2019 stats with 2022 projections based on company diversity reports.
While the overall growth in women in the workplace was 6.9%, the growth within leadership roles was 19.5%.
The average for the top 20 tech companies is 25.3% female leadership, while Apple's current leadership page of its most senior execs shows five out of 18 are women, which is 27.8%...
More broadly, Apple's latest diversity report, published last month, shows that the company is also ahead of the pack when it comes to its workforce as a whole.
The diversity report shows that in 2014, Apple's workforce was made up of 70% males and 30% females. Since then, the numbers have ticked a bit, with 65.2% male employees and 34.8% female employees in 2021.

The data also shows Apple's leadership saw an 87% increase in female employees across the world. Overall, its female workforce increased 89%. The company is also increasing its female staff working in R&D, with 34% of its [broader] leadership roles fulfilled by women.

Apple hired more Black and Hispanic/Latinx employees than ever before in 2021. A combined 25% of Apple's leadership roles in the US were filled by Black and Hispanic/Latinx candidates last year. Additionally, a combined 41% filled Retail leadership roles last year.
My take: "Pale, male and stale" got a chuckle out of my wife, which is why it's in the headline.
Below: 2022