87% own iPhones, 87% plan to buy one, 30% own an Apple Watch.
From a note to clients by Harsh Kumar that landed on my desktop Wednesday:
Apple's share of smartphone ownership remains near record highs in Piper Sandler's Taking Stock with Teens Spring 2022 survey (here). Of the ~7,100 respondents, 87% have an iPhone, which is slightly below the 88% record set in the Spring 2021 survey. In addition, the iPhone could return to record highs due to the 87% purchase intention among teens. We note over 23% of teens plan to upgrade to an iPhone 13 this spring/summer. Apple's other hardware metrics also showed strong results, with more than 30% already owning an Apple Watch and 72% owning AirPods. Overall, we view the survey results as a sign that Apple's place as the dominant device brand among teens remains well intact.
87% of teens in the Spring 2022 survey own an iPhone, a near record metric 87% of teens expect an iPhone to be their next phone, also near a record
Over 23% of teens expect to upgrade to an iPhone 13 this spring/summer. This is slightly ahead of the 22% that expected to upgrade in the fall/winter
iPhone 13 ownership represented ~18% in the Spring 2022 survey, a strong first mark This is well ahead of the ~12% the iPhone 12 saw in the Spring 2021 survey
A record 30% of teens own an Apple Watch in the Spring 2022 survey Apple also has 83% market share among teen smartwatch owners
72% of teens own AirPods in the Spring 2022 survey, an all-time record 9% of teens plan to buy AirPods within the next 12 months
31% of teens use a fitness app as a part of their workout regimen
41% of teens are using or are interested in using iCloud+ Private Relay
Maintains Overweight rating and $200 target. 
Cue the AirPod bar chart: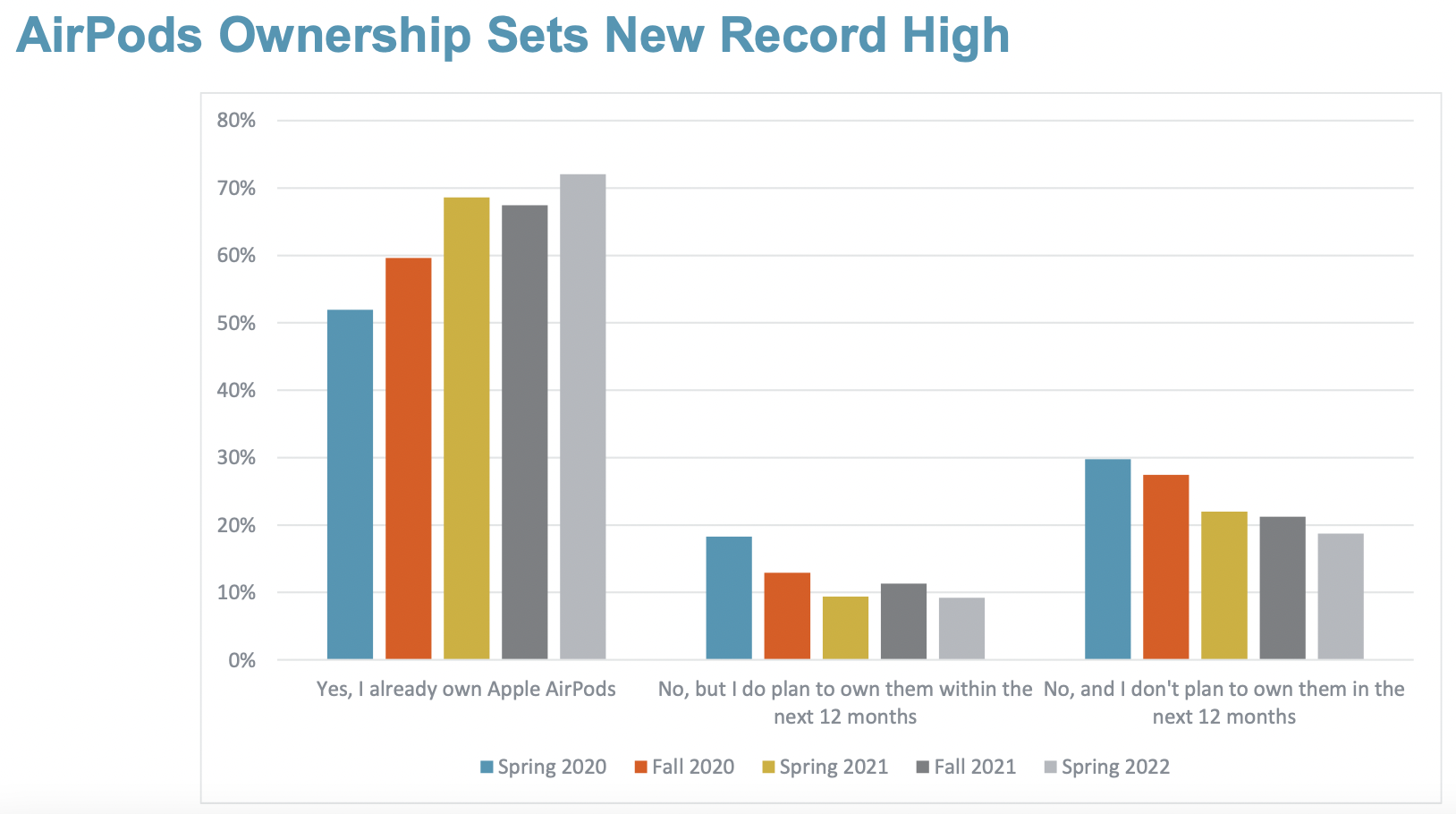 My take: These are, for the most part, well-heeled teens. The average household income in the survey sample was ~$69,300 of which upper-income responses (28% of responses) represented households averaging $104,200. Still, the outbreak of white earbuds among the young is approaching pandemic levels.