"
Media articles suggest order cuts; we see
demand as strong." -- Analyst Wamsi Mohan
From a note to BofA Securities clients that landed on my desktop Wednesday:
Recent media articles suggest Apple plans to produce 20% fewer iPhone SE next quarter given weaker demand as a result of the war in Ukraine. The articles also suggest some order cuts (few million units) for the entire iPhone 13 range, and some order cuts for AirPods. While these articles might lead some investors to think there is risk to demand, we believe demand for iPhones remains strong based on our analysis of iPhone trade-in prices. Apple is offering trade-in values that are at a discount compared to 3rd parties in the U.S. and the UK.
Further, Apple recently reduced the trade-in prices for the majority of its models in the U.S., UK and China. In our opinion, lower Apple trade in prices vs 3rd parties and the reduction in overall iPhone trade-in prices signifies strong demand. This compares to the year 2019 when Apple was offering high trade-in prices vs 3rd parties to drive upgrades.
Separately, China has imposed another round of lockdowns in Shanghai; however, as we previously pointed out companies have learned to manufacture through COVID and Apple/Foxconn have the ability to relocate production to other areas and, as of now, we do not expect a material impact from these shutdowns. Reiterate Buy on multiple tailwinds on both hardware and services (user growth, ASP, and increased penetration of installed base).
Reiterates Buy rating and $215 price objective.
My take: The Street came to the same conclusion about Nikkei two days ago. Meanwhile, as Mohan points out, there are a lot of old phones out there crying to be upgraded. See BofA's Figure 6: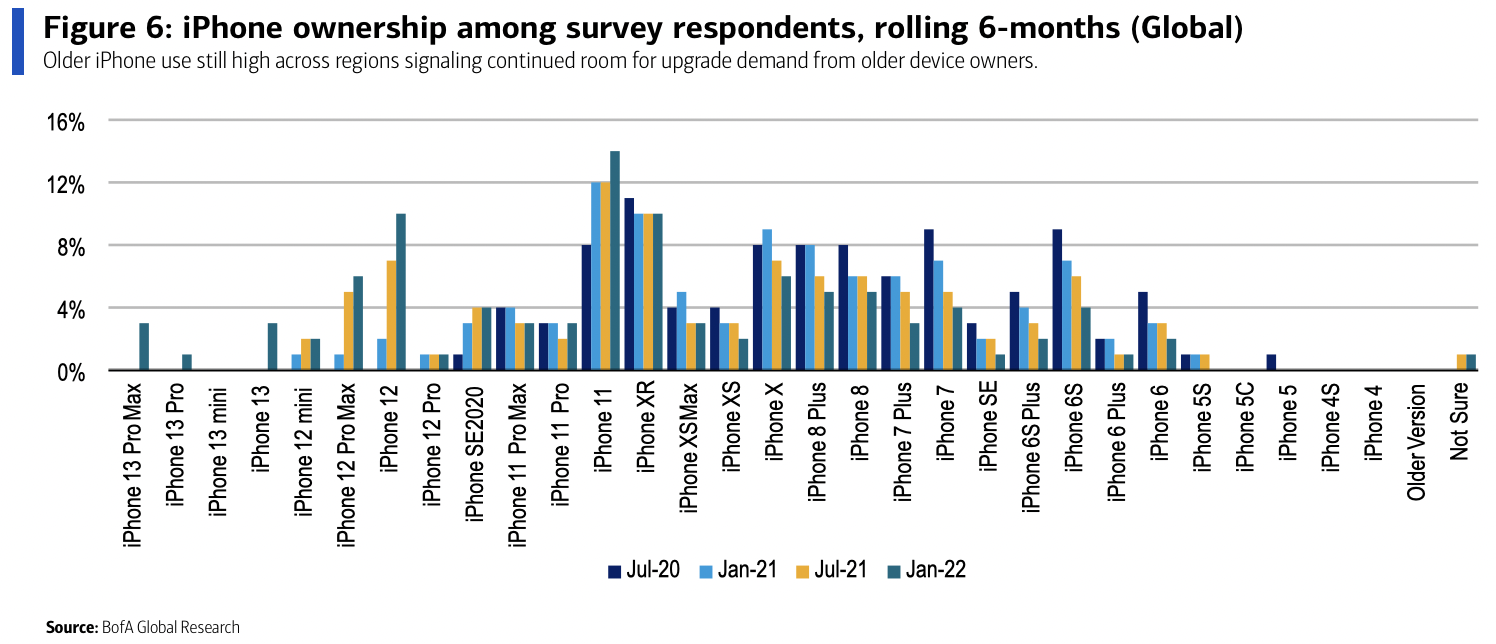 Click to enlarge.