From a note to clients that landed on my desktop Sunday: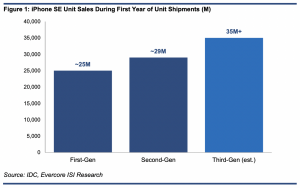 ALL YOU NEED TO KNOW:  We believe the launch should be a notable tailwind for Apple, which we think could ship >35M units in the phone's first year. At a blended ASP of ~$450 or modestly higher given a higher base price, shipments at that volume could generate an additional ~$15-20B in annual revenues (approx. ~4-5% of total sales). Assuming standard product operating margins, it could contribute ~25-30c to EPS (~4-5% of total EPS)...
[W]e think the third generation of SE could follow a similar growth pattern to what the second generation saw vs. the first. In the first year of Apple shipping the first iPhone SE, it sold ~25M units. Apple shipped ~29M units in the first year of the second generation SE, a ~16% increase.
And recall, Apple reported Jun-20 iPhone revenues materially ahead of management and street expectations ($26B vs. expectations for $22B) driven in part by the strong launch of the second iPhone SE.
Net/net: In light of both historical patterns around the previous generations of the iPhone SE and our assessment of current demand for a more affordable iPhone, we think Apple could see substantial revenue contributions from the new SE, potentially reaching $15B or higher.
Maintains Outperform rating and $210 target. 
My take: Daniel Ives, for what it's worth, put his chip on the 30M square. We'll never know for sure.