A sampling of the new guidelines for developers, from Apple's support document "Distributing dating apps in the Netherlands":
Developers must build a separate app, available only in the Netherlands:
Developers of dating apps who want to continue using Apple's in-app purchase system may do so and no further action is needed. Those who want to use a different payment system will need to request the StoreKit External Purchase Entitlement or the StoreKit External Purchase Link Entitlement.
The entitlements that comply with the ACM order are only available for dating apps on the App Store in the Netherlands, and apps distributed pursuant to those entitlements must only be available in the Netherlands. As a result, dating app developers using these entitlements will need to submit a separate app binary for iOS and/or iPadOS that may only be distributed on the Netherlands storefront.
Developers must use a payment system as secure as Apple's and set up to split payments with Apple:
Developers cannot store or transmit payment information, unless they are a PSP who meets the same criteria required of all other PSPs. Before your entitlement can be assigned, you must demonstrate that your PSP meets the criteria of having a secure payment processing system and an established track record of protecting user privacy. Your PSP will need to offer the following:
Privacy, security, and fraud prevention services consistent with industry standards.
Broad payment support including cards, iDEAL, and Apple Pay.
Subscription billing capabilities with secure card storage and handling.
Split payments, with the ability to pay commission directly to Apple at the developer's request.
Developers must display a warning sheet before any payment:
When using a third-party payment system within your app, your app must include an in-app modal sheet explaining that purchases are made through a source other than Apple. It must be displayed prior to:
Any payment flow where the user would make a purchase;
Any flow to enter payment information, even if it is not for a specific purchase.
In both flows, your app will need to continue displaying the modal sheet until the user taps the Continue button, on a per-device basis.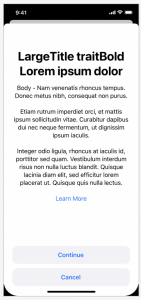 The modal sheet's design and messaging must exactly match the specifications provided in figure 1.
Title: This app does not support the App Store's private and secure payment system
Body: All purchases in the <App Name> app will be managed by the developer "<Developer Name>." Your stored App Store payment method and related features, such as subscription management and refund requests, will not be available. Only purchases through the App Store are secured by Apple.
Learn More
Action 1: Continue
Action 2: Cancel
Developers must pay Apple 27% (rather than the usual 30%):
Consistent with the ACM's order, dating apps that are granted an entitlement to link out or use a third-party in-app payment provider will pay Apple a commission on transactions. Apple will charge a 27% commission on the price paid by the user, net of value-added taxes. This is a reduced rate that excludes value related to payment processing and related activities. Developers will be responsible for the collection and remittance of any applicable taxes, such as the Netherlands' value-added tax (VAT), for sales processed by a third-party payment provider.
Developers must deliver monthly reports to Apple listing every external transaction:
Developers using these entitlements will be required to provide a report to Apple recording each sale of digital goods and content that has been facilitated through the App Store. This report will need to be provided monthly within 15 calendar days following the end of Apple's fiscal month. To learn about the details that will need to be included in the report, view an example report. Qualifying developers will receive an invoice based on the reporting and will be required to remit payment to Apple for the amount invoiced within 45 days following the end of Apple's fiscal month. In the future, if Apple develops technical solutions to facilitate reporting, developers will be required to adopt such technologies.
Developers must submit to Apple audits and risk being blacklisted:
Please note that Apple has audit rights pursuant to the entitlement's terms and conditions. This will allow Apple to review the accuracy of a developer's record of digital transactions as a result of the entitlement, ensuring the appropriate commission has been paid to Apple. Failure to pay Apple's commission could result in the offset of proceeds owed to you in other markets, removal of your app from the App Store or removal from the Apple Developer program.
See also: