U.S. stocks were poised to regain some lost ground as investors prepared for a meeting of Federal Reserve policy makers and earnings from big technology companies.
Futures for the S&P 500 rose 0.3% Monday, after the benchmark index endured its third consecutive and biggest weekly drop since March 2020. Contracts for the technology-focused Nasdaq-100 added 0.4% and Dow Jones Industrial Average futures rose 0.3%. Stock futures can be volatile and don't always indicate where indexes will land at the opening bell.
The biggest single factor driving yields up and stock prices down is the expectation that the Fed will raise interest rates multiple times in 2022 to rein in inflation, which is running at its fastest pace in 40 years. The central bank is set to gather for a two-day meeting Tuesday. At its conclusion on Wednesday, Chairman Jerome Powell is expected to signal that rates will likely rise as soon as March.
The central bank is concerned fast-rising consumer prices will become self-reinforcing by feeding into expectations of higher inflation, said Lyn Graham-Taylor, senior rates strategist at Rabobank. "It is talking about tightening aggressively to get on top of that."
Mr. Graham-Taylor said he thinks inflation will fall this year and that the Fed won't raise rates as many times as the market expects, pulling down 10-year government-bond yields.
Charts: Yahoo!Finance sees a bearish fast stochastic pattern. Max pain has jumped to $170 from $155 with a call mountain at $170. The put-to-call ratio, which was over 1.0 all last week, has returned to the 0.5 to 0.6 range. (See Friday's open-interest chart below today's for a visual representation of how dramatically short-term bets changed in advance of Thursday's earnings call.)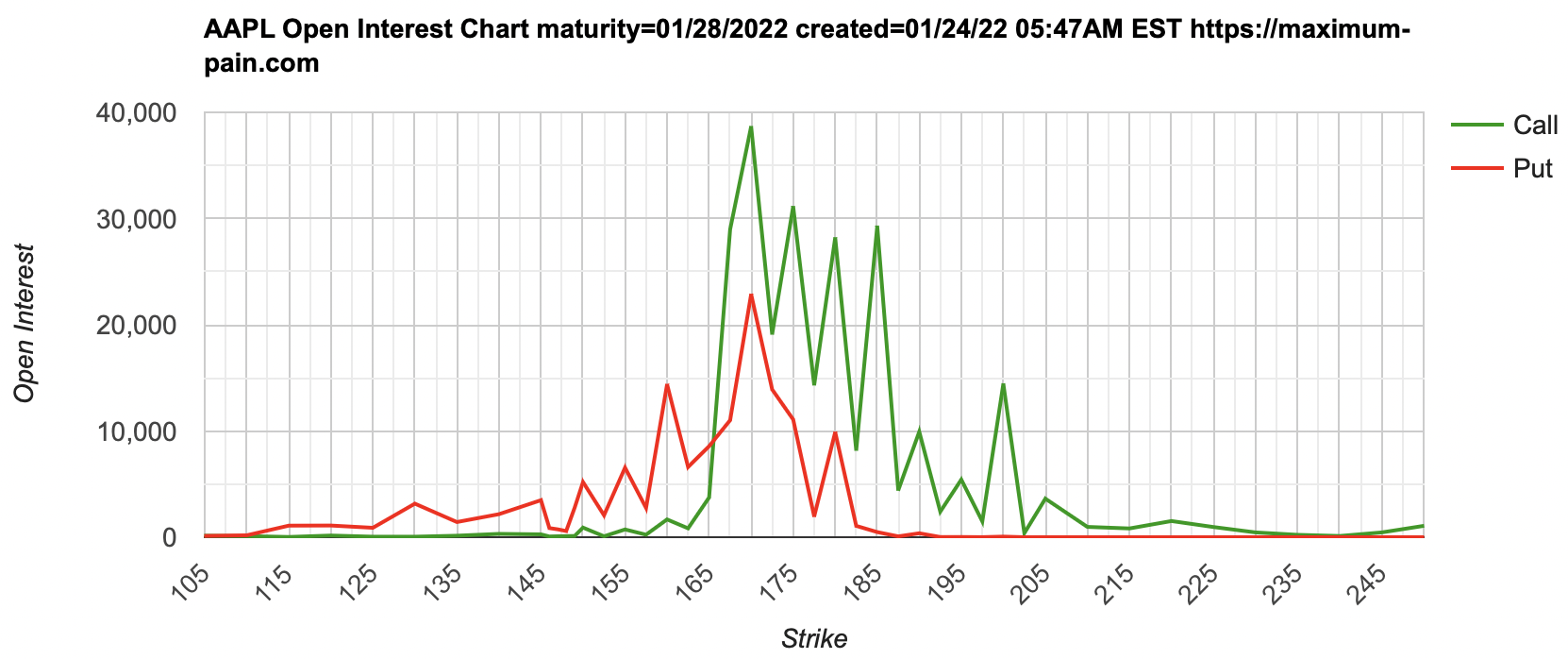 Below: Friday's open-interest chart: