"Given the broader landscape, we feel technology investors should look at Apple as a 'place to hide.' — Analyst Harsh Kumar
From a note to clients that landed on my desktop Friday: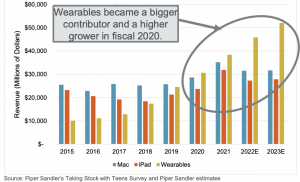 We believe Apple has a favorable set-up for 2022. We believe iPhone momentum will continue due to 5G adoption, particularly in the United States and China. In addition, we see growth in services and wearables offsetting some of our growth concerns in Mac and iPads. Given the broader landscape, we feel technology investors should look at Apple as a "place to hide" in the current environment. Finally, over the next several years, we see healthcare and automotive as the next major growth markets for the company.
We Like the Set-Up in 2022: In the near-term, webelieve the company is well-positioned given the strong 5G iPhone trends, continued growth in wearables and services, and already tempered expectations around Mac and iPad growth. We expect the company to provide favorable commentary on its upcoming earnings call, but we do not expect formal guidance due to the continued pandemic uncertainty. In addition, we feel Apple could be the place to hide in the technology market. With a strong brand, solid free cash flow and margins, revenue/EPS growth, and a shareholder return program, we believe Apple could be the place to be in tech as we weather the broader market environment…
The Next Trillion in Market Cap: In our view, Apple's foray into the healthcare and automotive markets will be the key catalysts that drive the stock from the recently hit $3 trillion market cap to the $4 trillion market cap and beyond. In healthcare, we see the Apple Watch continuing to add more and more features, with the goal of eventually offering a blood sugar monitoring system. Within automotive, reports continue to circulate of the company's entry into the market. We believe the move makes sense, given the car represents a hardware platform on which Apple can sell its services.
Maintains Overweight rating. Raises price target to $200 from $175.
My take: Apple's December earnings call is two weeks away and the dozens of analysts who cover it are scrambling to update their spreadsheets. This one liked what he saw.