That pressure to be a part of the blue text group is the product of decisions by Apple executives starting years ago that have, with little fanfare, built iMessage into one of the world's most widely used social networks and helped to cement the iPhone's dominance among young smartphone users in the U.S.
How that happened came to light last year during Apple's courtroom fight against "Fortnite" maker Epic Games Inc., which claimed the tech giant held an improper monopoly over distribution of apps onto the iPhone. As part of the battle, thousands of pages of internal records were made public. Some revealed a long-running debate about whether to offer iMessage on phones that run with Google's Android operating system. Apple made a critical decision: Keep iMessage for Apple users only...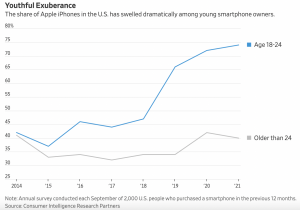 From the beginning, Apple got creative in its protection of iMessage's exclusivity. It didn't ban the exchange of traditional text messages with Android users but instead branded those messages with a different color; when an Android user is part of a group chat, the iPhone users see green bubbles rather than blue. It also withheld certain features. There is no dot-dot-dot icon to demonstrate that a non-iPhone user is typing, for example, and an iMessage heart or thumbs-up annotation has long conveyed to Android users as text instead of images.
The cultivation of iMessage is consistent with Apple's broader strategy to tie its hardware, software and services together in a self-reinforcing world—dubbed the walled garden—that encourages people to pay the premium for its relatively expensive gadgets and remain loyal to its brand. That strategy has drawn scrutiny from critics and lawmakers as part of a larger examination of how all tech giants operate. Their core question: Do Apple and other tech companies create products that consumers simply find indispensable, or are they building near-monopolies that unfairly stifle competition?
My take: If courts accept the theory that platforms can be viewed as monopolies in and of themselves, practically every design decision Apple makes could be construed as anticompetitive. Green text bubbles included.