"It is important to note that App Store revenue was still up 20% for the year." -- Analyst Amit Daryanani
From a note to clients that landed on my desktop Tuesday:
All You Need to Know: App Store revenue slowed once again with the growth rate falling to 9%, which makes December the first month of single digit App Store growth (over the last 10 years). We expected App Store growth to decelerate in both CQ4:21 and CQ1:22, but single digits is lower than our expectation of 10-15%.
We would caution investors against reading too much into a single month and it is important to note that App Store revenue was still up 20% for the year. This is consistent with our view that Apple's Services business can maintain high teens growth over the next 3-5 years.
The growth rate for the December-qtr was 13%, which is towards the lower-end of our expectation that growth would slow to the low/mid-teens after ~18% AppStore growth in the prior quarter.
Apple guided to a slowdown in their total Services business after reporting 26% growth in the Sept-qtr, so the slowdown in App Store will likely not come as a surprise but the magnitude is rather notable.
We remain comfortable with our forecast for 18% y/y services growth in Dec-qtr. Most of the growth slowdown can be attributed to China and a lack of gaming revenue growth. China decelerated notably with 1% growth this month vs 12% in November. Gaming revenue was flat after growing 6% in the prior month (Gaming is ~70% of the App Store).
Net/Net: The slowdown was slightly more severe than expected, but App Store growth was still high enough to support our ~18% Services forecast. Furthermore, we think near term momentum will be driven by improving supply that could unleash upside to iPhone expectations in Dec & March-qtrs.
Maintains Outperform rating and $180 price target. 
Cue the bar graph: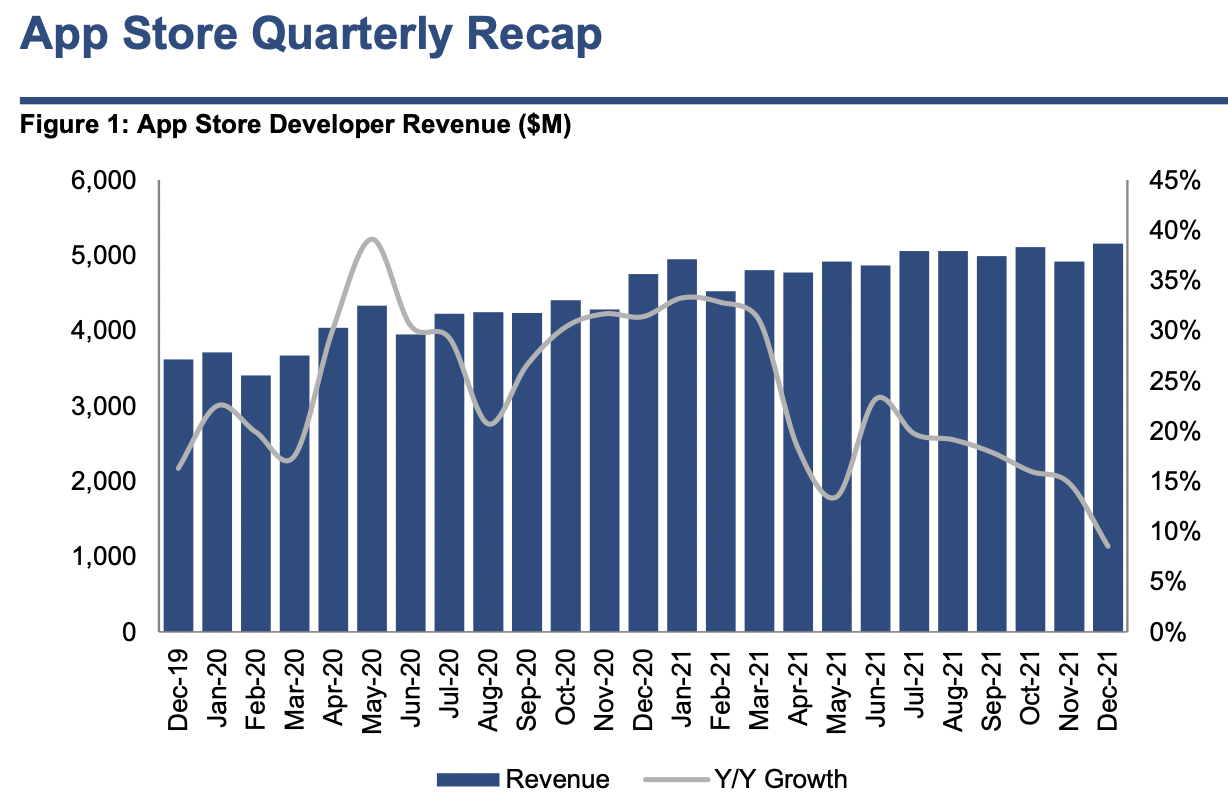 My take: Daryanani delivers bad Apple data wrapped in bubblewrap.