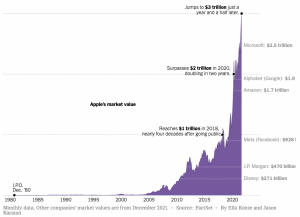 Combine Walmart, Disney, Netflix, Nike, Exxon Mobil, Coca-Cola, Comcast, Morgan Stanley, McDonald's, AT&T, Goldman Sachs, Boeing, IBM and Ford.
Apple is still worth more.
Apple, the computer company that started in a California garage in 1976, is now worth $3 trillion. It became the first publicly traded company to ever reach the figure on Monday.
Apple's value is even more remarkable considering how rapid its recent ascent has been. In August 2018, Apple became the first American company ever to be worth $1 trillion, an achievement that took 42 years. It surged past $2 trillion two years later. Its next trillion took just 16 months and 15 days.
Such a valuation would have been unfathomable a few years ago. Now it seems like another milepost for a corporate titan that is still growing and appears to have few tall hurdles in its path. Another tech giant, Microsoft, could follow Apple into the $3 trillion club early this year…
By just about any measure, a $3 trillion valuation is striking. It is worth more than the value of all of the world's cryptocurrencies. It is roughly equal to the gross domestic product of Britain or India. And it is equivalent to about six JPMorgan Chases, the biggest American bank, or 30 General Electrics.
My take: Six JPMorgans is nothing to sneeze at.