From a note by analyst Katy Huberty that landed on my desktop Tuesday: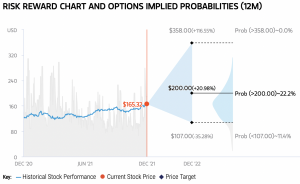 Our $200 price target is sum-of-the-parts driven. We apply a 5.7x EV/Sales multiple on Apple's Product business (iPhone, iPad, Mac, and Wearables) and a 10.9x EV/Sales multiple on Apple's Services business, in-line with their respective peer groups. We also assign $301B of EV to Apple's Future Products (AR/VR, Autos, etc.), which is driven by $22B of revenue and a 15x target EV/Sales multiple. This implies a 32.8x target P/E multiple.
BULL CASE $358.00. iPhone shipments reach all-time record in FY22. The combination of stronger than expected iPhone purchase intentions and mix shift to higher end iPhone 12 and 13 models (and NAND SKUs) drives an 18% 2 year iPhone shipment CAGR. Total revenue reaches $430B in FY22, while EPS reaches $6.50. We assign $1.1T in EV to Apple's Future products, which equates to $56B of revenue ($74B disc. back from FY26) on a 20.5x EV/Sales multiple. Our $358 bull case valuation implies a 50x target P/E multiple.
BASE CASE $200.00. Sustaining growth off a record FY21. Flat Y/Y iPhone replacement cycles on the back of record high China upgrade intentions combined with Mac share gains, new Wearables launches, and sustained double digits Services growth drives 6% Y/Y revenue growth off a record FY21 base. Mix shift to higher margin iPhones & mix shift to Services drives 30bps of gross margin expansion, with $880B of share buybacks driving LSD EPS growth. Apple starts to get credit for its upcoming AR/VR glasses launch.
BEAR CASE $107.00. iPhone strength fails to materialize in FY22. After early outperformance, iPhone upgrade growth slows in early FY22 at the same time work from home demand trails off, causing a weaker than expected year of Product growth. Low-teens Services growth makes Apple more insulated from weaker consumer spending than other tech hardware peers. SOTP based bear case valuation of $107 implies 20.2x FY23 bear case EPS of $5.30 (vs. base case EPS of $6.09).
My take: Huberty's base case prices in the glasses but not the car.
See also: Katy Huberty raises her Apple price target $36 to $200 — Updated with charts