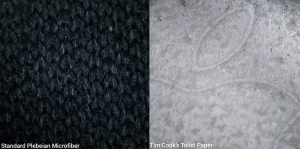 Upon closer inspection, it's actually two cloths glued together! If you feel a bit underwhelmed by your $19 purchase, pull both layers apart and suddenly you have two cloths, each costing only $9.50.
But let's go a bit deeper.
Under a microscope the premium quality of Apple's polishing cloth comes to life. On the left, you'll see a plain old cleaning cloth. Boring. On the right? Miniscule fibers intricately woven together, uniting to become not just a tool for cleaning, but an object of beauty worthy of being cleaned itself. Amidst the beauty, a thin line delicately traces the form of mankind's foundational fruit: an apple.
Cue iJustine's review:
My take: Laugh all you want, but on Ebay, Apple's sold-out microfiber polishing cloth is going for $49 plus shipping.
UPDATE: Daisuke Wakabayashi has taken a whack at the story — "Apple's Most Back-Ordered New Product Is Not What You Expect" — probably for Saturday's New York Times.