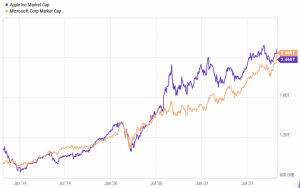 Microsoft Corp. is once again the most valuable company in the U.S., with the software heavyweight's market cap topping $2.44 trillion Friday morning and surpassing Apple Inc. for the first time in more than a year.
Microsoft's better-than-expected earnings report earlier this week was the latest catalyst that pushed the stock higher.
Meanwhile, Apple warned on Thursday that supply-chain disruptions are hindering iPhone and other product manufacturing. These issues are expected to bring increased challenges during the important holiday-shopping quarter. Shares fell Friday even as the company logged a record 12-month profit nearing $100 billion.
The last time Microsoft had a bigger market cap than Apple was July 2020, according to Dow Jones Market Data.
Reminder: Market capitalization equals share price times number of shares, and both companies have been buying their own. Apple more aggressively than Microsoft, I believe.
My take: They've both good companies.