"In Q2 2021, [Apple] captured 75% of the overall handset market operating profit and 40% of the revenue despite contributing a relatively moderate 13% to global handset shipments," says Counterpoint Research in a blog.
"While this performance shows the power of the Apple brand," continues the company, " it is still lower than the peak of Q4 2020 when its revenue share reached a staggering 50%, up from 28% in Q3 2020, and its profit share reached an unprecedented 86%, up from 51% in the previous quarter."...
Counterpoint notes that the market was affected both by the demand for 5G in Apple's iPhones, and the fall of Huawei.
"Despite relative stability at the top, a major shift in recent quarters was caused by Huawei's decline following the imposition of US sanctions against it," says the research company. "Huawei's fall has been accompanied by the rise of other Chinese OEMs, particularly Xiaomi, OPPO and vivo, which were the biggest revenue generators respectively after Apple and Samsung in Q2 2021."
Cue the subway map charts (click to enlarge):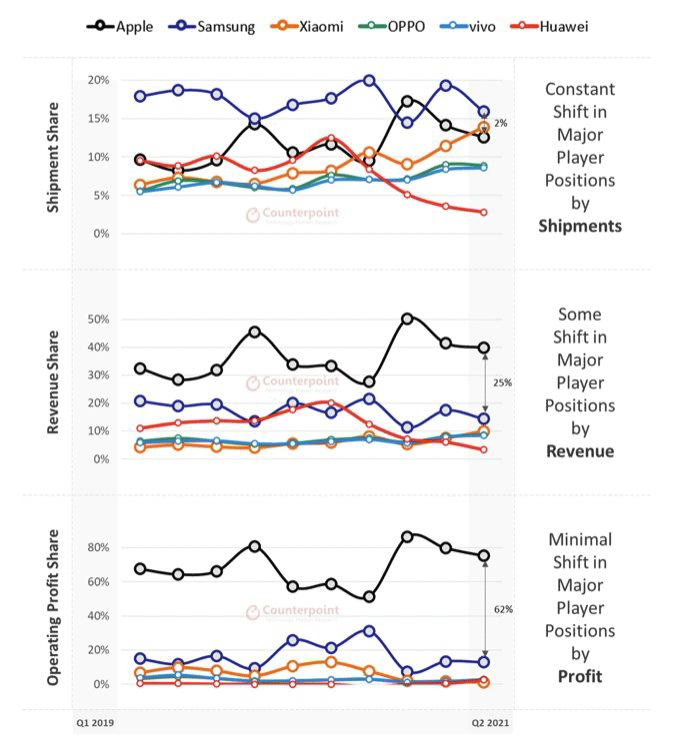 My take: Counterpoint does good research. Wish I didn't have to take sloppy seconds.