From a note to Morgan Stanley clients that landed on my desktop Wednesday:
What happened? Earlier [Tuesday] evening, Bloomberg reported that Apple is "likely" to cut its iPhone 13 build/production targets for C2H21 by as many as 10 million units because of prolonged chip shortages at Broadcom and Texas Instruments (both covered by Joe Moore). Apple, Broadcom, and Texas Instruments have not publicly commented on this report.
Our view: While we have not specifically heard of material iPhone production bottlenecks due to semiconductor shortages at AVGO or TXN, broader supply tightness continues to be a real issue across a number of end markets.
As we highlighted last week, the most significant iPhone production bottleneck ties to a shortage of camera modules for the iPhone 13 Pro/Pro Max due to low utilization rates at a Sharp factory in southern Vietnam impacted by COVID-19 related workforce limitations.
Regardless of whether supply challenges become more pronounced near-term, we'd remind investors of three data points that support a 'buy the dip' view on the back of supply-driven disruption.
First, Apple's significant revenue outperformance – 7% upside vs. consensus forecasts YTD – is consistent with our supplier checks that Apple receives preferential treatment during periods of supply tightness. As a result, if Apple can't meet near-term demand, the shortfall is likely to be even greater at competitors, creating an opportunity for share gains.
Second, Apple enjoys market-leading customer retention/loyalty (1) such that any delay in production just pushes iPhone sales into future quarters. In other words, demand isn't perishable and any supply shortage shouldn't materially impact valuation.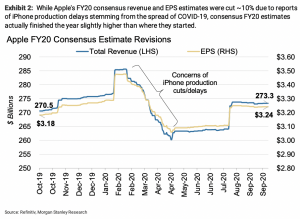 Lastly, during the most recent period of material supply shortages in the early days of COVID-19 factory shut downs, FY20 consensus revenue estimates were revised lower by 9% (FY20 EPS was cut by 12%) from peak to trough, yet by fiscal year end, Apple's FY20 consensus revenue and EPS estimates were actually slightly higher than where they started the year (Exhibit 2), further supporting the view that demand isn't perishable. This was despite a delayed iPhone 12 launch that also had the impact of shifting the revenue contribution from new iPhones into the following fiscal year.
Maintains Overweight rating and $168 price target.
My take: From Katy's lips to the Street's ears. Key point…
"…if Apple can't meet near-term demand, the shortfall is likely to be even greater at competitors, creating an opportunity for share gains."