Apple's response to the European Union's proposed Digital Markets Act runs to 31 pages, including footnotes.
From "Building a Trusted Ecosystem for Millions of Apps: A threat analysis of sideloading" posted on Apple.com: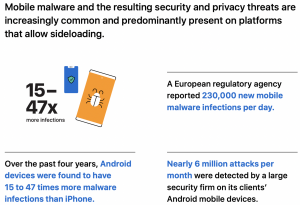 If Apple were forced to support sideloading: More harmful apps would reach users because it would be easier for cybercriminals to target them – even if sideloading were limited to third-party app stores only.
The large amount of malware and resulting security and privacy threats on third-party app stores shows that they do not have sufficient vetting procedures to check for apps containing known malware, apps violating user privacy, copycat apps, apps with illegal or objectionable content, and unsafe apps targeted at children.
Users would now be responsible for determining whether sideloaded apps are safe, a very difficult task even for experts. In the rare cases in which a fraudulent or malicious app makes it onto the App Store, Apple can remove it once discovered and block any of its future variants, thereby stopping its spread to other users. If sideloading from third-party app stores were supported, malicious apps would simply migrate to third-party stores and continue to infect consumer devices.
My take: The judge hearing the Epic case accepted this argument from Apple. So far the Europeans aren't buying it.
See also: Will the EU's Digital Markets Act be taking 10% bites out of Apple?