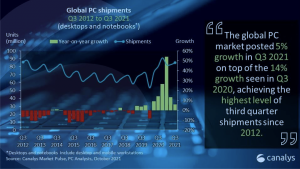 Following five quarters of double digit growth, the global PC market saw annual growth drop to 5% in Q3 2021, with shipments of desktops and notebooks, including workstations settling at 84.1 million units. Despite the reduction in growth, volumes remain at a remarkably high level, given how strong the industry performed in Q3 2020. As a result, the PC market has undergone a two-year CAGR of 9% from Q3 2019. Despite high demand, PC business suffered a series of blows, making it extremely hard to facilitate supply. Vendors and channel partners are still having difficulty fulfilling orders as backlogs persist. Notebooks and mobile workstation shipments grew 3% year-on-year to hit 67.4 million units, while shipments of desktops and desktop workstations rose 12% to 16.6 million units…
Of the top five PC vendors, all but one continued to post shipment volume growth in Q3 2021. Lenovo led the market with 19.8 million units shipped, for a modest increase of 2.5% year-on-year. HP maintained second position, but underwent a 5.7% decline, with a drop off in Chromebook shipments to the US playing a major role in the downslide. Third-placed Dell was the big winner, posting the highest growth at 26.7% with over 15 million units shipped and a market share gain of over 3% from a year ago. Apple and Acer rounded out the top five with healthy growth of 14.4% and 5.7% respectively, with the former also enjoying a market share gain.
Cue the spreadsheet: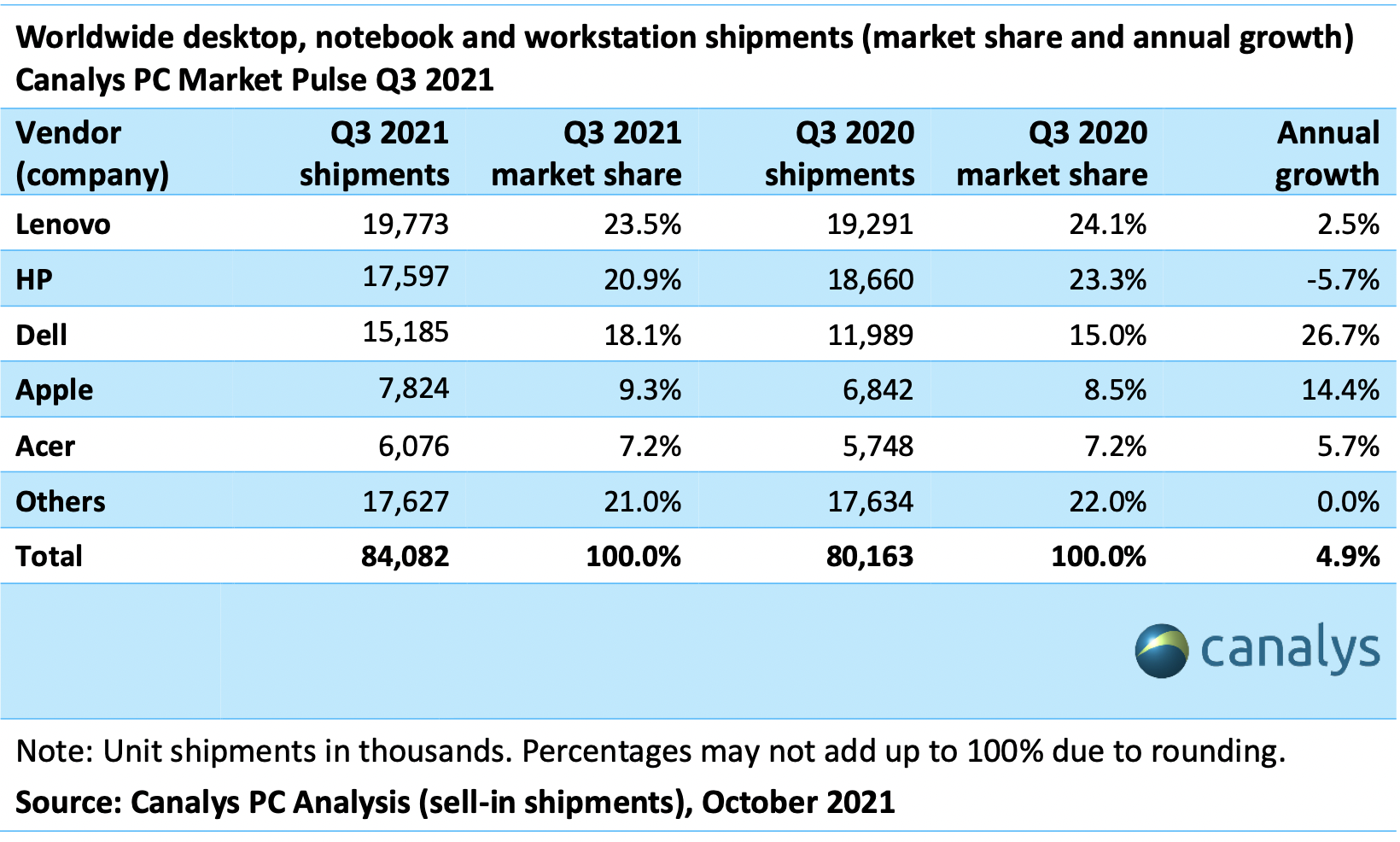 My take: Note that Canalys' estimate of Apple's September quarter sales growth (14.4%)  is considerably higher than IDC's (9.9%). One reason may be that Canalys includes iPads in its PC count and IDC does not.
Correction: According to Horace Dediu, 7.8 million units cannot include iPads. iPads alone are at least 16 million units. Canalys does count iPad sales, but in a separate category, not as PCs.