More even than Warren Buffett, Jeff Bezos, Mark Zuckerberg or Elon Musk.
From The Economist's "Tim Cook's decade at Apple makes him the most successful "successor CEO" ever" published last week:
THE TECHNOLOGY industry is littered with managers who have tried and failed to emulate successful founders. Think of Steve Ballmer, who succeeded Bill Gates at Microsoft, and Kevin Rollins, who took over from Michael Dell at Dell Technologies, who returned a few years later. Tim Cook heads the list of exceptions. Since he took the helm of Apple from Steve Jobs ten years ago, the firm's market capitalization has increased by more than $2 trillion.
No chief executive in history has created as much total shareholder value. Mr Cook's numbers beat the value generated by Jeff Bezos, who retired as Amazon's chief executive in July, over his 24 years in charge. They also surpass the achievement of Warren Buffett, who has been running Berkshire Hathaway for nearly 45 years. During his second almost 14-year stint at Apple, Jobs added only $343.6bn to the firm's market valuation, or $24.7bn a year
Apple's success under Mr Cook stems from several forces that have powered the tech industry—and thus the global economy—in the past decade: globalisation, the mobile revolution and network effects. But Mr Cook has also succeeded because he did the opposite of what Jobs would have done in his position.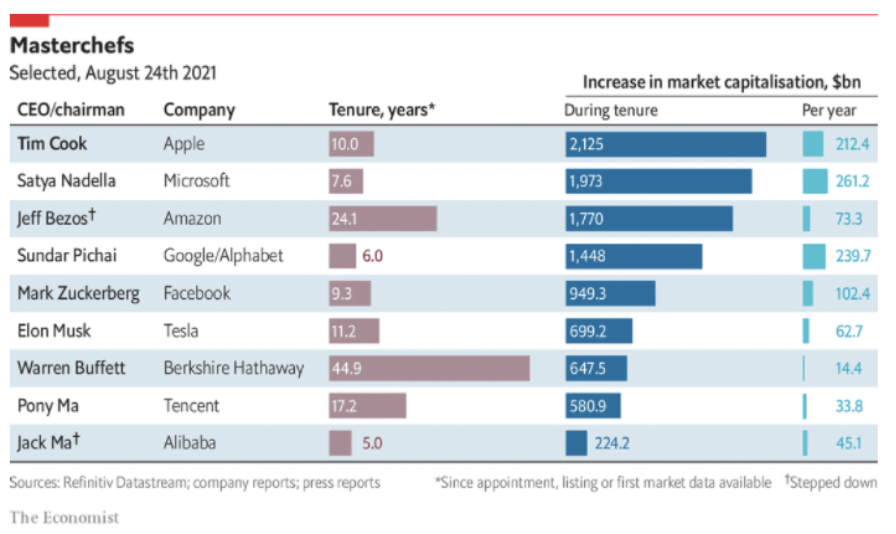 My take: Great chart. Intriguing thesis. But to read more you have to buy a subscription. To The Economist, that is.