U.S. Customs officials are seizing fakes in record numbers.
From Wayne Ma's "AirPods Are a Huge Hit With Consumers—and Counterfeiters" ($) posted Friday on The Information: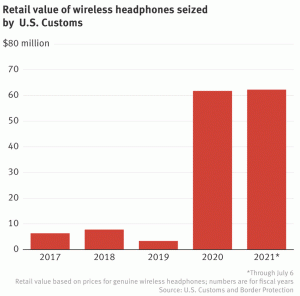 Roughly 360,000 counterfeit wireless headphones with a retail value of $62.2 million were confiscated in the first nine months of the U.S. government's fiscal year, which starts in October, according to previously unreported data from U.S. Customs and Border Protection. That has surpassed both the quantity and the retail value of counterfeit wireless headphones seized in all of fiscal 2020, when 295,000 pairs worth $61.7 million were seized.
The numbers are up dramatically from 2019, when the agency nabbed $3.3 million worth of headphones...
The consumer electronics giant likely sold at least $16 billion worth of AirPods in 2020, based on estimates of AirPods shipments at 97 million last year, according to research firm Canalys. Apple shipped 29.5 million in 2018, Canalys said.
"What customs agencies seize are the tip of the iceberg," said Paolo Beconcini, head of the intellectual property and anti-counterfeiting team for China and Asia-Pacific at law firm Squire Patton Boggs.
My take: An Apple spokesperson said the fakes deliver an inferior experience and can "often be dangerous." But the biggest danger for Apple may be that most of the counterfeits, according to Customs, easily paired with iPhones.