From a note to clients by analyst Amit Daryanani that landed on my desktop Thursday:
ALL YOU NEED TO KNOW: This morning, the House Judiciary Committee advanced five antitrust bills designed to curb the power of big tech despite intensive lobbying by several of the companies the bills would affect. One bill among these, the American Choice and Innovation Online Act, is of particular relevance to AAPL. The bill would make it illegal for large tech companies to treat their own services preferentially vs. others on the platform in certain circumstances and would prevent platforms from interfering with business users' prices or the ability of customers to interact with those business users, which has potentially significant implications for the App Store. (Though we don't think AAPL's strategy has impeded competition or driven a preference for AAPL apps vs. peers. If anything, it has given the consumer more choice)…
The bills seek to ban some current practices by these companies and offer regulators more tools to head off future anti-competitive practices. Should the American Choice and Innovation Online Act eventually make it through the House and Senate, there is a scenario where Apple is pressured to lower App Store fees, though the chances of the bill passing in its current form remain unclear. We estimate that should the App Store developer payout be raised from 70% to 95%, the company could see an ~11% hit to EPS. Should the payout be raised less steeply to 75%, the EPS impact could be as low as ~2%. [See chart below.]
Net/net: As [our head of U.S. Public Policy Sarah Bianch] also noted, the legislation may not move forward quickly, and the timing for a full House vote is uncertain, but it nonetheless magnifies the regulatory risk at AAPL, making this development worth watching.
Maintains Outperform rating and $175 target.
Below: The hit on Apple's EPS if the share developers got paid was increased.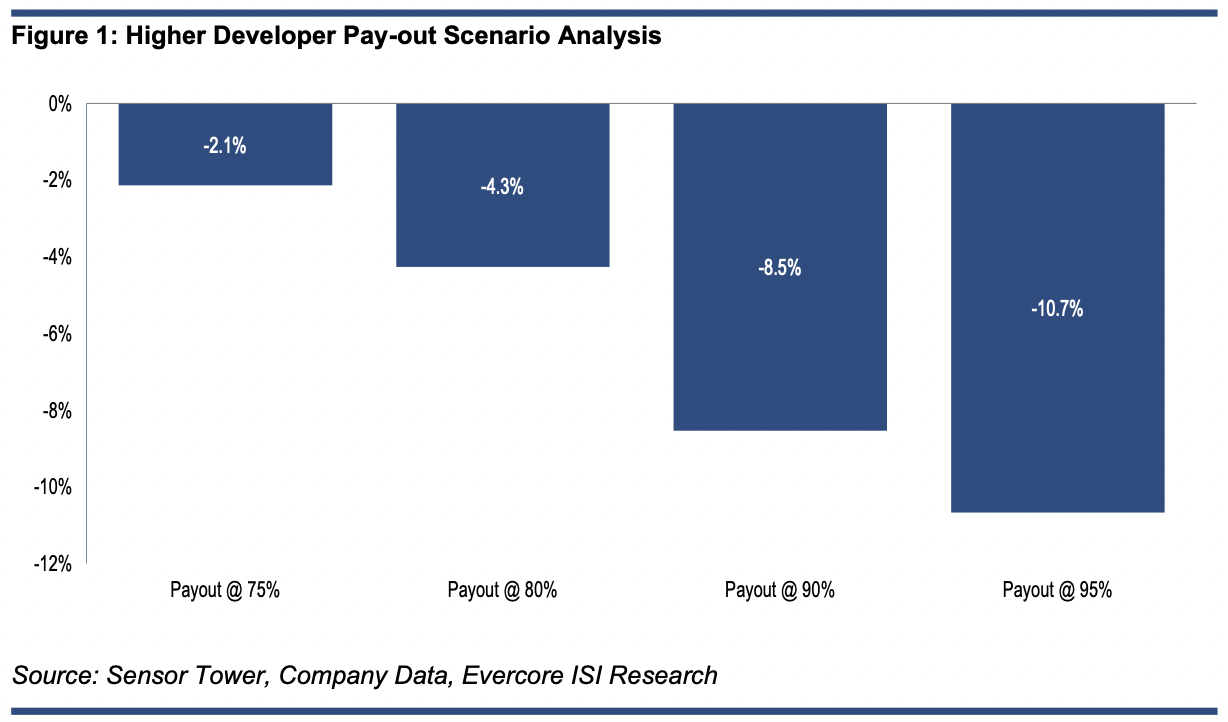 My take: Stock buybacks have pushed Apple's EPS so high it can afford a 2.1% cut. Hell, it can absorb a 10.7% cut.