Get ready for some tough compares, warns analyst Amit Daryanani.
From a note to clients that landed on my desktop Wednesday:
All You Need to Know: App Store growth slowed in May against tough comps (App Store revenue was +39% in May-20). We estimate total App Store developer revenue grew to ~$4.9bn in May; up 13% Y/Y (vs. +18% in April, +31% in March).
The deceleration was primarily driven by a slowdown in gaming revenue as we lap the benefits from last year's COVID shutdowns. Revenue in the App Stores top 10 countries was up 21%, indicating the slowdown was more acute in smaller markets. Street models are calling for Services revenue growth to decelerate to 23% y/y in the June-qtr, down from 27% in the Mar-qtr. This deceleration looks appropriate as App Store revenue will likely be high teens to low 20s growth.
The App Store is facing difficult comps after reporting +33% growth in June-20. Apple care is another component of the Services business that will likely slow down as it tends to be relatively correlated to iPhone sales. From a geographic perspective, Japan was the slowest growing major market at +7%, while both the US (+29%) and China (+21%) outperformed the broader market.
Net/Net: Services growth looks set to decelerate as we come up against some difficult comps. Longer-term, we remain confident in our call for high-teens annual services growth.
Maintains Outperform rating and $175 target.
Cue the chart: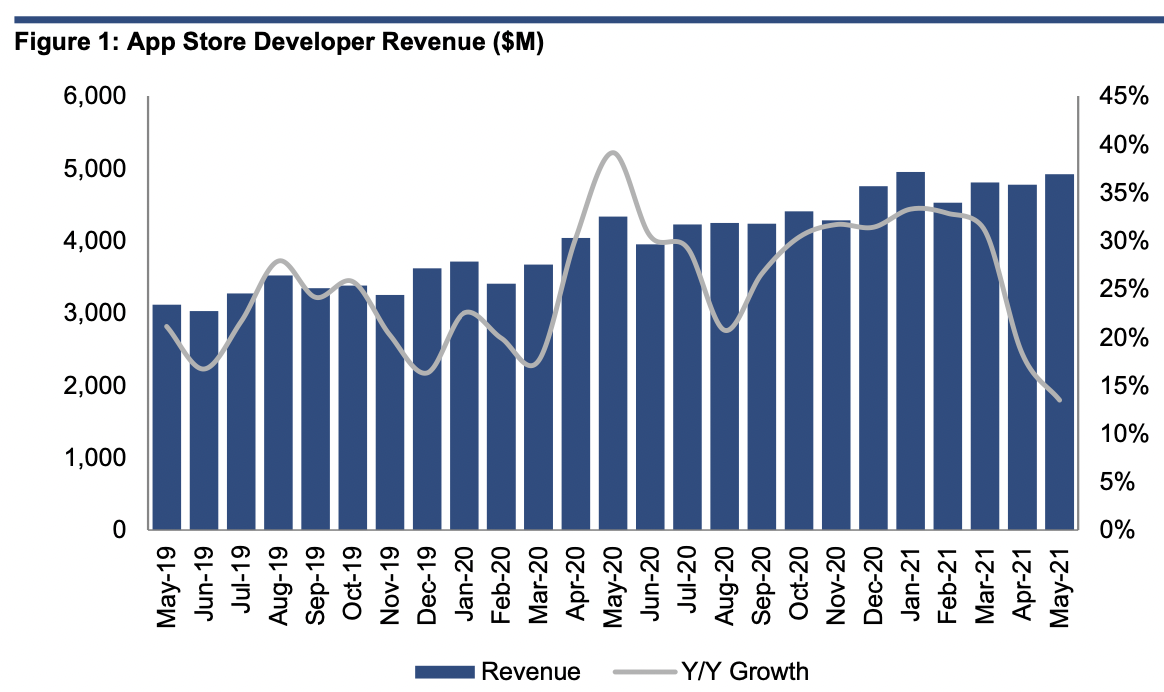 My take: Y/Y growth may have plummeted, but it's still in positive territory,