"My assumption is that the trial makes Apple look very bad, and that Apple wins."
From "Epic v. Apple Trial Begins" ($) posted Monday to Stratechery subscribers: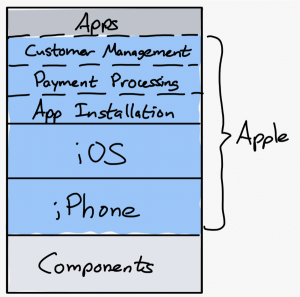 What Apple is arguing is that "Apps" should be colored blue too [in the stack at right]: Spotify does not in fact have the right to communicate to customers via their app because it runs on iOS (this also applies to App Tracking Transparency). I managed to kick off quite a Twitter debate (here and here) about the validity of this claim (personally I find the store comparison absurd; plenty of products list their website in their instruction manual or on their boxes, and said websites often give you the option to purchase said product), but I wanted to bring up this image because it's helpful as a primer for all of these antitrust actions. In short:
The E.U.'s objection to the Apple's anti-steering rules is focused on preventing Apple from controlling what an app says.
The E.U.'s objection to the mandatory use of Apple's in-app purchasing is focused on payment processing.
Epic's lawsuit focuses on both app installation (arguing for third-party app stores) and payment processing (arguing that Apple has illegally tied payment processing to app installation).
Epic's approach is clearly the most ambitious, and, as I noted, the least likely to succeed. What seems like a mistake to me is Apple's insistence on anti-steering rules. The fact that apps can't even tell you that they have a website is what prompted Senator Blumenthal's observation that Apple and Google were in Congress to "defend the patently indefensible."
To put it in terms of the stack, I think Apple would save itself a whole lot of trouble — and, it should be noted, give its customers a better overall experience — if they gave up on controlling what Apps can or cannot say, or link to. I also think they should allow storefronts in webviews, which will relieve pressure on the payments layer (although it won't satisfy Epic), but even if the company won't go that far, the gag order it puts on developers does nothing but engender bad will, bad PR, and, from Apple's perspective, bad political outcomes.
The supporting documents for Epic Games, Inc. v. Apple Inc. are here.
My take: This excerpt doesn't do justice to Thompson's analysis of the legal precedents in the case (which he offers with the "very large caveat" that he is not a lawyer).