Other professional Apple watchers have been more down on the stock than Goldman's Rod Hall, but few of them are still working on Wall Street.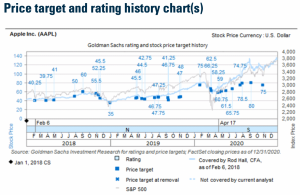 When Rod Hall started covering Apple for Goldman Sachs in February 2018, he was determined to shake things up. His predecessor, Simona Jankowski, had put Apple on Goldman's "conviction Buy list" in the fall of 2015 when Apple was still trading, as Mark Andreessen famously put it, "like a steel mill going out of business,"
Jankowski had put forward a theory -- she called it "Apple-as-a Service" -- that Apple was more than a hardware stock, only as good as next year's product line. She thought the days of measuring the company by counting iPhones unit sales might be coming to an end. "The smartphone battleground is shifting from unit land grab," she wrote in a note dated Nov. 15, 2015, "to user monetization through content and services such as video, music, apps, games and payments."
Hall, who had counted iPhones for J.P. Morgan, didn't buy it. In his first Apple note for Goldman, dated Feb. 6, 2018, he cut Apple's rating from Buy to Neutral and set a 12-month price just below the stock's closing price -- predicting, in effect, that for the next year Apple was going nowhere. "We are not permanent bears on Apple," he wrote last September in a note titled "What would make us more positive?" "Our big picture view of Apple is that the iPhone is a very tough act to follow, with Services and Wearables not likely to be large enough to return the company to growth."
By then, however, Hall's reputation was in free-fall. He'd slashed his Apple price target a year earlier on the dubious theory that Apple's accounting for TV+ spending was going to come back to bite them -- a prediction that Apple felt obliged to contradict in a rare 25-word reprimand. Then last April, when the pandemic was slamming the U.S. markets, he cut his price target again -- from a split adjusted $75 to a Street-low $58.25 -- and told his clients it was time to sell.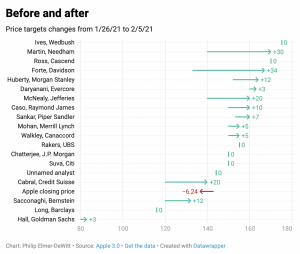 "So far it would be an understatement to say this call hasn't worked," he wrote last September, when Apple was trading above $120. Today, as Apple trades in a $130-$145 range, Hall still has the Street-low price target (currently $83) and is stubbornly sticking with his Sell rating. Fellow analysts have called his Apple opinions "tone deaf" and "fake news." On CNBC, where Hall used to make guest appearances as a clever Apple contrarian, Jim Cramer now refers to him simply as that "Goldman guy."
Every stock has its devil's advocate, and Hall plays the role with relish. But the fact that Apple's devil works for Goldman Sachs -- one of Apple's largest institutional shareholders, the lead investment bank for Apple bond offerings and the issuer of the prestigious Apple Card -- has raised more than a few eyebrows. Says one vocal Hall critic, a friend-of-the-blog who posts here as Tommo_UK: "His commentary is so absurd, so asinine, so ill-informed in the face of the facts that there has to be something more than a rogue analysts being given a long leash."
The rest is speculation. Tommo-UK's theory centers on the Apple Card, for which Apple reportedly struck a hard bargain on terms and conditions. "Goldman may be covering themselves through arbitrage and hedging by making a market for Apple, handling their bond sales, acting in an advisory capacity and trying, as usual, to suck the blood out of both ends of the body too quickly." Regular readers will recognize the blood-sucking metaphor as a reference to Matt Taibbi's description of Goldman's role in the great housing bubble of 2008: "A great vampire squid wrapped around the face of humanity, relentlessly jamming its blood funnel into anything that smells like money."
Apple declined to comment on this story. Hall did not reply to an invitation to chat. Goldman Sachs issued a terse statement: "Our research is independent and our decisions on stock ratings are made based solely on analyst data and models."
See also Apple 3.0's Goldman Sachs archives. 
UPDATE: With one hand Goldman says to sell Apple, with another it recommends buying it. These news items came to me over the transom...
Welcome new visitors. You can support this ad- and spam-free  site by subscribing. Click here.