From a note to clients by analyst Thomas Champion that landed on my desktop Thursday:
What is New: Apple's ATT [App Tracking Transparency] to be implemented shortly. This spring (likely March or April) Apple will enable new features in iOS 14 prompting users to opt-in to tracking and the use of 3rd party data. Prior experience shows up to 80% of consumers will opt-out of being tracked, which will also be the default option. The IDFA [Identifier for Advertisers] standard is expected to be sunsetted (or deprecated) as a part of this update. This is expected to impair attribution and reduce advertising ROI, especially for direct response advertisers.
What Does this Mean for the Ads Ecosystem? The full impact of ATT may not be fully understood until months after rollout, but we see several likely outcomes: (1) for Platform providers like Facebook, Snap and others, there's likely to be a revenue headwind experienced in 2021 as attribution models shift more predictive and advertisers potentially pause spend. Pricing may decline with spend; (2) Advertisers, particularly SMB's and direct-response marketers, may find it more difficult to locate their audience; (3) App developers and publishers may pivot their business models towards subscriptions and commerce versus advertising; (4) Users may note less personalization or relevance in advertising; and (5) Apple looks to be more assertive in advertising going forward.
Facebook Has Embarked on a War of Words But Financial Impact Looks Mostly Priced In. Facebook appears uniquely vulnerable to ATT because of its scale, direct- response and SMB concentration. CEO Zuckerberg did not mince words on the 4Q investor call and increasingly sees Apple as a competitor. Our analysis of ATT points to a ~7% hit to '21 revenue at the mid-point after looking at impact to i) the Audience Network (FAN); and, ii) mobile iOS ad revenue attributable to direct response. This level of impact seems mostly incorporated in Street models following CFO Wehner's carefully scripted message around headwinds in '21 (regulatory and consumption patterns were also cited). Importantly, we don't see much downside to revenue forecasts unless ATT ends up much more severe than we think. For the stock, we don't see much downside.
On Facebook: Maintains Neutral rating and $285 target.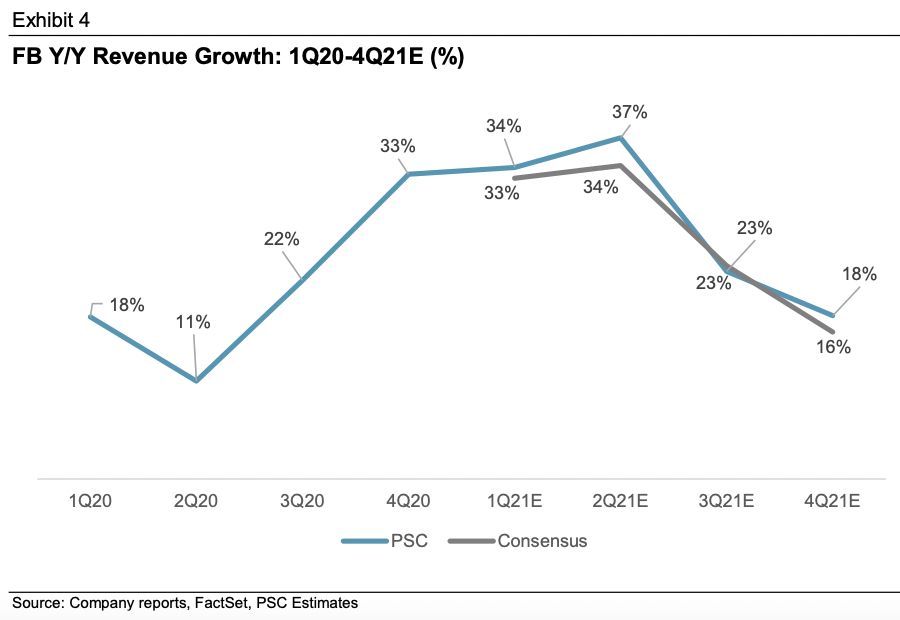 My take: Facebook can take a 7% hit from 80% opt-out and maintain double-digit revenue growth? Zuck will survive.