But not before it shot to No. 1 on the App Store.
From the New York Times' "Apple and Google Cut Off Parler, an App That Drew Trump Supporters" posted late Saturday: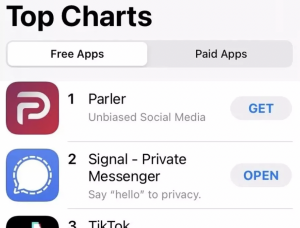 Parler, a social network that pitches itself as a "free speech" alternative to Twitter and Facebook, is suffering from whiplash.
Over the past several months, Parler has become one of the fastest-growing apps in the United States. Millions of President Trump's supporters have flocked to it as Facebook and Twitter increasingly cracked down on posts that spread misinformation and incited violence, including muzzling Mr. Trump by removing his accounts this past week. By Saturday morning, Apple listed Parler as the No. 1 free app for its iPhones.
But hours later, Apple said it had removed Parler from its App Store. Google had made a similar move a day earlier. The companies both said that Parler had not sufficiently policed the conversation on its app, allowing too many posts that encouraged violence and crime.
"We have always supported diverse points of view being represented on the App Store, but there is no place on our platform for threats of violence and illegal activity," Apple said in a statement late Saturday. "Parler has not taken adequate measures to address the proliferation of these threats to people's safety."
My take: Like a lot of people, apparently, I downloaded Parler today while I still had the chance. Had to see for myself.
See also: Twitter bans Trump; Apple gives Parler 24 hours
UPDATE: Amazon too.