Apple is setting itself up for a strong December quarter says analyst Katy Huberty.
From a note to clients that landed on my late desktop Tuesday:
As of Tuesday, January 5th, iPhone 12 Pro lead times in the US remain elongated at 3 weeks vs. just 1 day for all prior iPhone models launched in the last 4 years at 10.5 weeks post launch.
For the iPhone 12 Pro Max, lead times are 4.4 days as of January 5th, 2nd longest among all iPhone models launched in the last 4 years at 8.5 weeks after launch (second only to the iPhone 12 Pro; Exhibit 18).
Finally, lead times for the iPhone 12 and iPhone 12 mini remain stable at 1-3 days, in line with most past iPhone model launches. However, as we highlighted prior to the holidays, we believe these lower priced 5G models are performing better in international markets, specifically China (Exhibit 21), where the average smartphone price is 30%+ lower than in the US and where aggressive carrier subsidies and trade-in adoption is lower than in the US.
This data reinforces our bullish iPhone outlook (MSe is 8% above the consensus iPhone revenue forecast in the December quarter and 6% above in FY21) and helps refute recent investor concerns of weaker C1Q21 A14 chip orders that were rumored prior to the holidays (and addressed by Morgan Stanley's TSMC analyst, Charlie Chan).
Maintains Overweight rating and $144 price target. 
Cue Exhibit 18 (click to enlarge):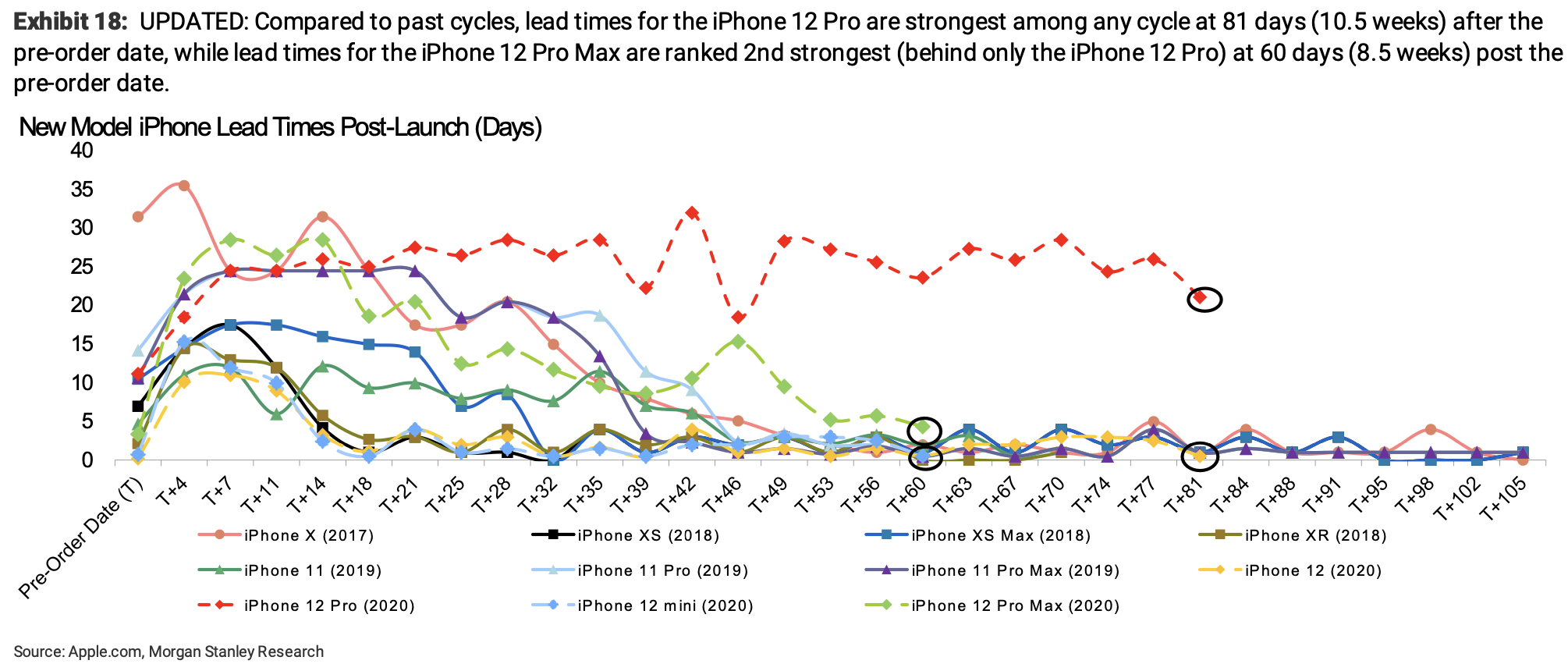 My take: This is just the tip of a Morgan Stanley data dump that includes 100 numbered exhibits.