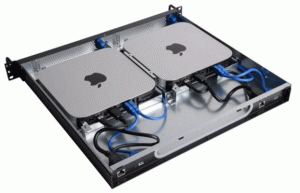 The target audience here — and the only one AWS is targeting for now — is developers who want cloud-based build and testing environments for their Mac and iOS apps. But it's worth noting that with remote access, you get a fully-featured Mac mini in the cloud, and I'm sure developers will find all kinds of other use cases for this as well…
David Brown, AWS's vice president of EC2, tells me that these are completely unmodified Mac minis. AWS only turned off Wi-Fi and Bluetooth. It helps, Brown said, that the minis fit nicely into a 1U rack.
"You can't really stack them on shelves — you want to put them in some sort of service sled [and] it fits very well into a service sled and then our cards and all the various things we have to worry about, from an integration point of view, fit around it and just plug into the Mac mini through the ports that it provides," Brown explained. He admitted that this was obviously a new challenge for AWS. The only way to offer this kind of service is to use Apple's hardware, after all.
It's also worth noting that AWS is not virtualizing the hardware. What you're getting here is full access to your own device that you're not sharing with anybody else. "We wanted to make sure that we support the Mac Mini that you would get if you went to the Apple store and you bought a Mac mini," Brown said…
AWS will charge $1.083 per hour, billed by the second. That's just under $26 to spin up a machine and run it for 24 hours. That's quite a lot more than what some of the small Mac mini cloud providers are charging (we're generally talking about $60 or less per month for their entry-level offerings and around two to three times as much for a comparable i7 machine with 32GB of RAM).
"Pretty much every one of our customers today has some need to support an Apple product and the Apple ecosystem, whether it's iPhone, iPad or  Apple TV, whatever it might be. They're looking for that bold use case," Brown said.
My take: The waning of Wintel.
See also: Apple in the server rack?