From a note to clients by analyst David Vogt that landed on my desktop Monday:
iPhone 12 wait times continue to decline the past seven days. Utilizing UBS Evidence Lab (>Access Dataset) data that tracks product availability across 30 countries, we compare iPhone 12 models to last year's iPhone 11 to gauge customer demand and supply. Over the past couple of weeks, the data suggests the iPhone 12 is widely available, implying potential softer demand compared to launch and as recently as seven days ago (Figure 1 & 2). Moreover, iPhone 12 availability in the U.S relative to the iPhone 11 launch last year (Figure 3) suggests a noticeable easing in wait time yr/yr...
iPhone 12 mix could modestly pressure product margins in Dec quarter & FY21. We estimate the iPhone 12 Pro and Pro Max contribution margins are below last year's comparable products by 300 and 500bps respectively. Furthermore, our teardown analysis suggests the iPhone 12 is the only model with higher contribution margin compared to last year driven by a $100 price increase. If the iPhone mix skews more towards the Pro and Max SKUs away from the iPhone 12 as procurement and availability data suggest, we believe there could be modest pressure on our product gross margin forecasts. We model product gross margin of 33.9% and 31.7% in FY1Q and FY2021 respectively that could see modest pressure driven by iPhone mix.
Maintains Neutral rating and soggy $115 price target. 
Cue Figure 3: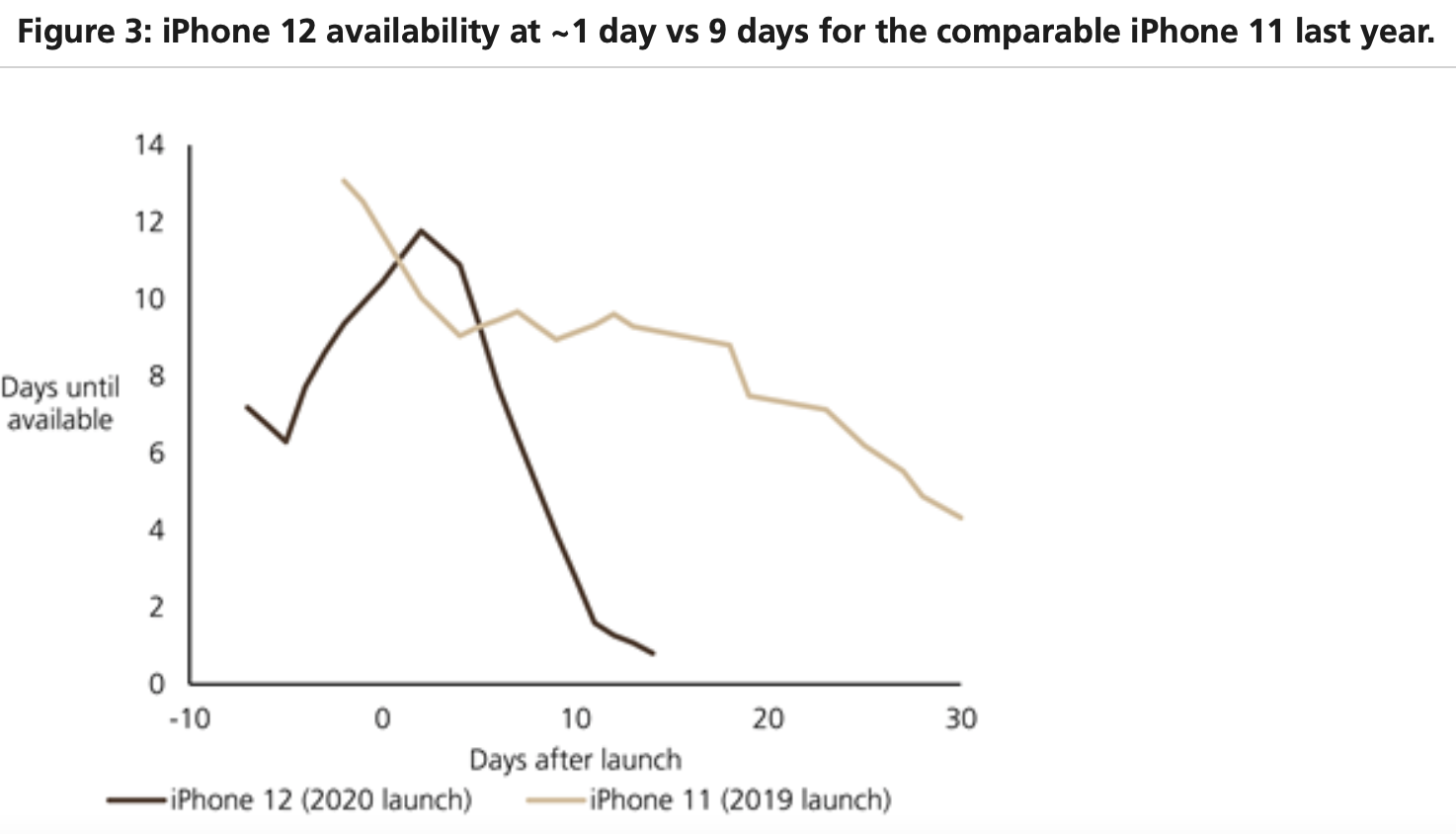 My take: On the other hand, J.P. Morgan's report last week suggested that iPhone 12 lead times may be short because supplies are plentiful.
See also: Carriers say Apple's iPhone 12 is selling better than the Pro